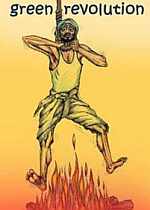 Past two decades have seen an unprecedented rise in the number of farmer suicides in our country. Across the nation, lacks of farmers have taken their lives in these years. Though this process is on for almost 2 decades, but it is only now that the nation is getting to know the seriousness and the extent of it. We are going through the worst ever farm crisis in the history of our nation.
The booming economy and the India Shining Images have taken the headlines while the nations failed to take note of the plight of the farmers. Being an agrarian society where the lives of 800 million people is directly dependent on crops, it is high time that each Indian take note of the problem.
"Why the farmers of this country, who place the nation's food on its table, are starving?"
Comments
educating the farmers regarding what type of crop they has to grow in particular season's ,,,
we can notice that all the farmers cultivate the same crop at a time , there are few medicinal plants which can fetch them some money throughout the year , so they can use those medicinal plants with the normal crops which they grow.
and one more thing is , the farmers blindly belive in these artificial furtilizers
.They are not aware of soil test which has to be done before using them .
If the artificial furtilizers are used in excess , it may yield them good result now , but in the long run soil looses its fertility and strengths...
so educating them is the only way i guess to solve these problems .
i agree with u
but the problem is that-
in india farmers are not understanding this
they should atleast understand the value of it
so to educate them we would first have to
make them know the value of it