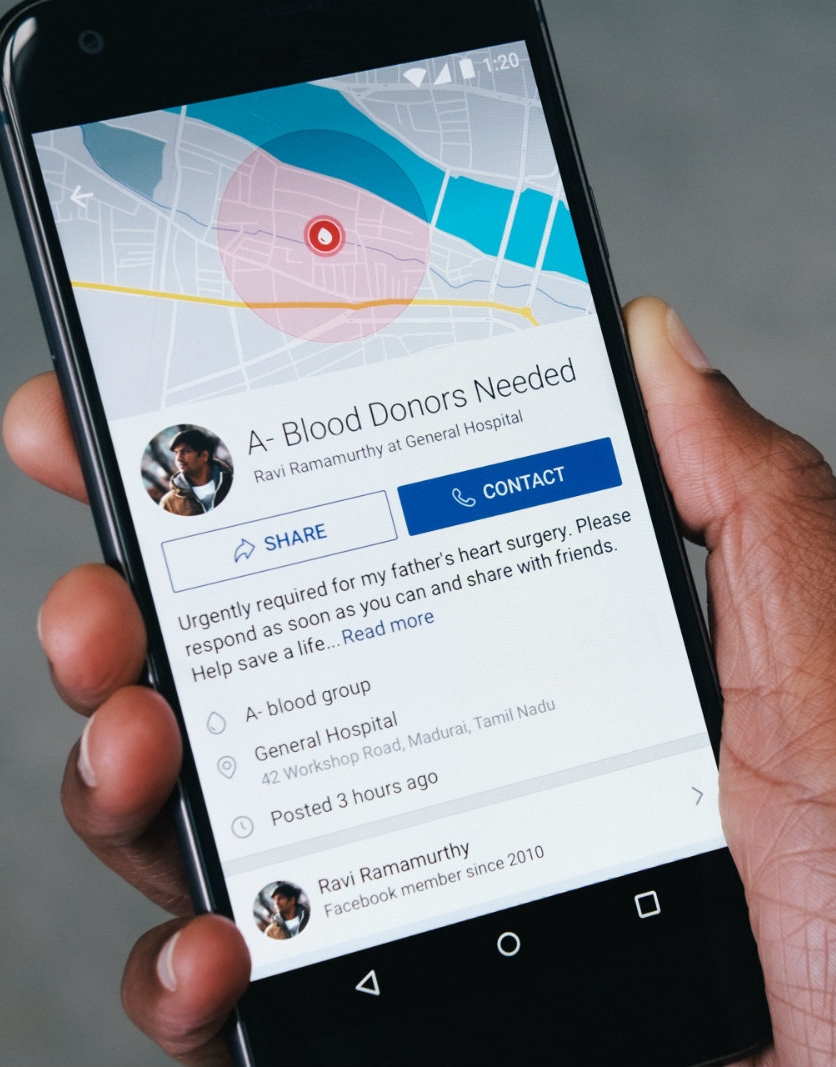 In 2002 India released the national blood policy with a firm commitment to phase out professional and replacement based blood donation practices in the country. 15 years later we are yet to see an end to replacement blood donations.
On 1st October 2017, the National Blood Donor Day, the Indian Health administration including the union Health Minister shared the news about Facebook rolling out a feature to enable people looking for donors to find them more easily. It's unfortunate that none of them noticed that this amounts to endorsing the view that the patient's relatives must continue to look for the blood donor to replace the blood they get from hospitals.
Of course, it comes both as a surprise and disappointment that Facebook planned to encourage something which the global community (WHO, AABB, ISBTI and National blood policies) firmly seek to end. The pain is even more when the people who should have been answering why people are still been asked to look for donors express great satisfaction and happiness in the idea of encouraging replacements.
We spoke to the Assistant Director General at National Blood Transfusion Council Dr Shobhini Rajan who was very clear that no blood bank should be asking families to get blood donors. She shared that her department together with the Central Drugs Standard Control Organization has worked elaborately to ensure that blood banks had more than one option to get blood rather than forcing the helpless families. She reiterated that all hospital blood banks have been given unconditional permission to organise blood donation camps to keep their stock maintained. She also highlighted that blood banks can now freely exchange blood with each other to tide over specific shortages - this again to enable better stock availability. With the National policy, the policymakers and the recent guidelines all in opposition to the practice of replacement - it is worth asking why the practice is still rampant and who is at fault.
As for the announcement from Facebook, they seem to have taken note of the concern and may make changes to their product. They have promised to look into ways to ensure that blood is available on the shelf when the patient needs it, rather than promote searches and donations when the patient is in crisis.
It is left to be seen how much more time will be lost and how many more patients will have to suffer before the country enforces what it has committed to do way back in 2002 - bring a complete end to replacement based blood donation.
As a target, the year 2020 has been set by various stakeholders. However, looking at the slow progress being made, the stubborn attitude of several blood banks and the lack of accountability, the Vision 2020 for a 100% voluntary blood donation based system is a distant dream.

After the Gazette Notification came from the Government permitting the Hospital-based blood banks to organise camps, Sankalp India Foundation approached 15 of them in Bangalore to get started with camps. Six months of follow-up and several meetings later we only have 3 who have agreed to start coming to camps.

This is a clear indicator that it is not really the law or the shortage of donor, rather the indifference that the hospital-based blood banks - especially in the corporate sector have towards patient's suffering. They continue to demand replacements while the Government has failed to find a way to enforce its own policy.