Rakta Kranti aims at organizing efficient and well-organized blood donation drives
Rakta Kranti aims at organizing efficient and well-organized blood donation drives with standards that are comparable to the best in the world. We bring to the donor all the information relating to blood donation that makes him/her absolutely comfortable and confident about the process.
Creating Awareness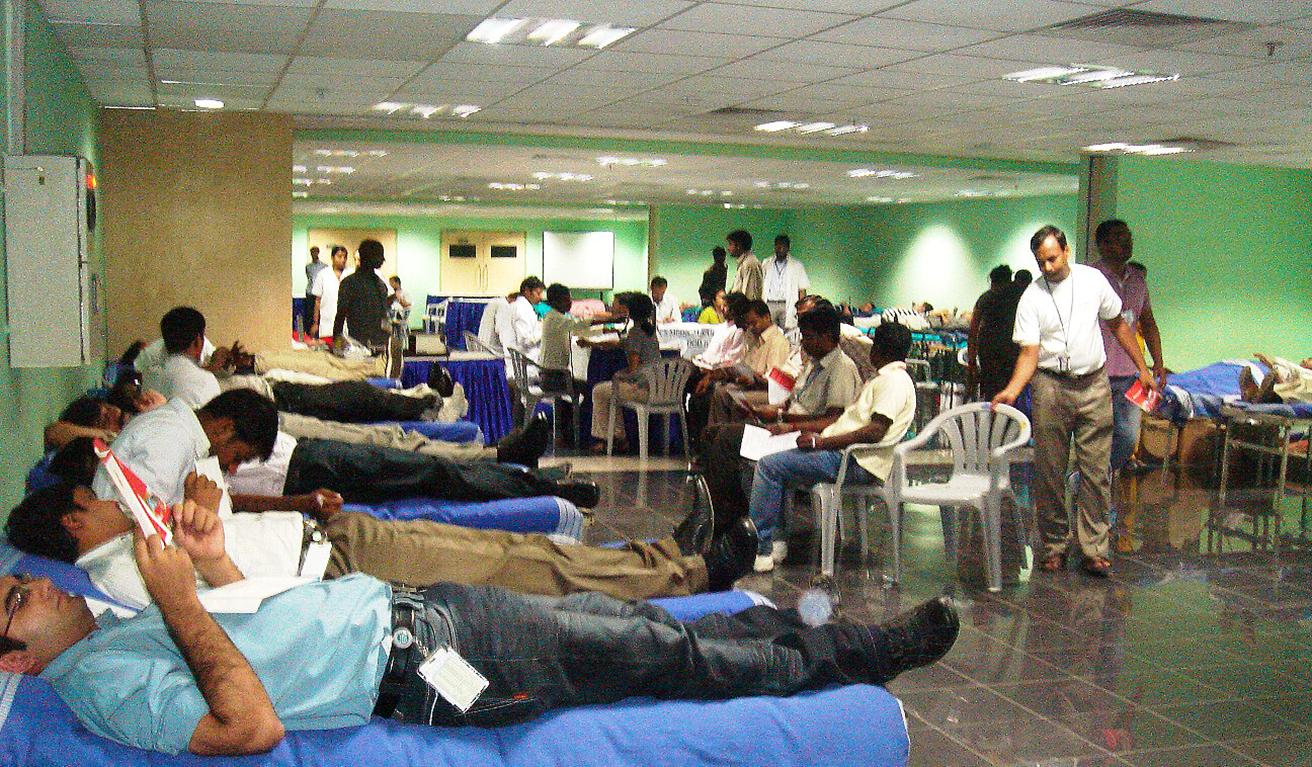 In each camp that we organize a lot of emphasis is given on awareness and education. We form a team of volunteers to champion the cause and train them to be good at taking the message ahead.
Blood Donation Drives – When Needed the Most
The team ensures that blood donation drives are organized in a planned manner to regularize the blood supply to the city. We ensure that there is no blood donation camp when the stocks of blood are good. By this every unit donated in our blood donation drives are more useful and helpful to the patient.
Progressive Blood Banking
Rakta Kranti also carefully monitors the working of the blood banks. We only help the progressive blood banks that are open to sharing their blood with the needy in all parts of the city without any bias or preferences. The choice of the blood banks is carefully made looking at their stocks of blood, the camps that they are receiving on their own and the willingness of the blood bank to change the procedures it is following for the better over a period of time.
Equal Distribution of Stock
Equal distribution of blood to all parts of the city has been our priority and with the support from the blood banks and the organizations, we have been able to make steady progress in this direction.
Advantages of Sankalp Blood Drives
Most relevant and accurate information about blood donation, donor awareness and other issues related to blood banking.
Team of volunteers within your organisation to promote the blood donation drive – The Team Red.
Blood donation Camps are organized only when there is a shortage.
The neediest, the most progressive, the most quality conscious and the most service oriented blood banks are invited to collect blood in your drives.
Technical expertise needed for successful and efficient execution for your blood donation drive.
Invaluable information on donor safety to ensure that each person donating blood has a wonderful experience.
Sankalp Blood Donation Drives: The Experiences

Mr Magesh, a senior Manager at Applied Materials says: We have been associated with Sankalp Foundation in arranging blood donation camps at ITPL, Bangalore. Sankalp volunteers have been instrumental in identifying when a blood camp should be conducted based on the demand, initiating interactions with ITPL tenant companies' for their employees' participation in the blood camp, Identifying and arranging the blood banks that would participate in the camp, publicizing the event, conduct of the camp with volunteers (registration of donors, post-donation care, constant monitoring of the blood banks during the camp to ensure that safe practices are followed), etc.. They are always available to help when we have needed blood in an emergency. I have always been amazed at how these focused youngsters at Sankalp Foundation have made a difference in the lives of thousands of people.
Vinuta part of CSR team of LOGICA had this to say: "It's my immense pleasure to write about Sankalp and the way it carry out the drives. The drive conducted on 17th February 2010 was a good success in Logica. Employees really turned up to the drive to donate blood and made a difference. The way Sankalp organize the drive is really appreciable. One thing I must mention about is the awareness program we had in Logica before the drive. It was really an eye opener for everyone to let the people know all the facts about blood donation and motivate them in donating blood. This also inspired us to have the TEAM RED inside Logica. It was a delightful session indeed. You guys do a phenomenal job. Keep up the good work."
Sriram who is part of the CSR Team of AMD had this to say: "We're pretty comfortable with working with Sankalp. Your processes are professional and your publicity posters are pretty effective. The entire operation is handled professionally and it makes the job of any company CSR team coordinator like me easy. It would help to raise the profile of Sankalp within the employees by organizing publicity or awareness programs during blood camps".
Landmarks
All blood banks comply with a Blood Bank Policy that lays down all the operational norms
Sankalp has initiated a study of Adverse Reactions Post Blood Donation.
Sankalp has triggered standardization of the blood donor screening approach used by various blood banks.
Sankalp completed 10000+ donations in voluntary blood donation drives in March 2010.
Roll of Honour
Aegis | Airtel | Alcatel-Lucent | AMD | Applied Materials | ARM | Brigade Apartments | Capgemini | Capgemini Indigo | Crosstab | Deutsche Bank | Eka Software | General Motors | HSBC | Infosys BPO | International Technology Park Limited Bangalore | Keane Software | Logica | Lucent | Millipore | Moog | National Instruments | Prateek Apparels | SLK Software | SSS-India | Standard Chartered Bank | Tata Consulting Engineering Limited | Tektronix | Toshiba | Trianz | WiQuest Semiconductors | ZTE
The Steps Forward
We strongly recommend that you initiate regular blood donation drives in your workplace. Once you decide upon the option of exploring blood donation drives, please do get in touch with us. We will be very happy to help you find answers to all your questions and assist you in your efforts to save precious human lives.
Unlike many other problems that our country faces, shortage of blood is a problem the solution for which is in the hands of citizens more than the government. By organizing a blood donation drive where individuals stand up to the cause of Life and campaign packed with blood facts we want to slowly bring down the walls of hesitation and usher in an era of "Rakta Kranti" (Blood Revolution).
We invite you to be a part of our small humble endeavour. We invite you to bring in a change.
Do Join In.
Please download the Rakta Kranti Newsletters here
April, 2008
July, 2008
February, 2009