The Silver filigree (known more as Tarakasi) from Cuttack, Orissa is the most equisite rendition of silver craft. Beaten silver is drawn into fine wires and foils which is then crafted into jewellery of great beauty. Cuttack is famous for the unique style of art and it has made a mark for itself in the arena of art and craftsmanship. The silver filigree work of Cuttack is very widely known and acclaimed for its superb finish, fine foils and snow glazed texture. It is a must for every visitor of Cuttack to feast his eyes with the sight of these works of art. The art of filigree has attained unconquerable heights of charm and beauty, demonstrating its capacity to remain unspoiled with the passage of time. For its intricate and magnificent style of art, Cuttack has brought this unique Orissan style of handicraft great fame and familiarity world over.The silver filigree artifacts of Cuttack vary from the images of Gods and Goddesses, the most appraised anklets and some fine hemraj filigree that are still being created by the artisans to keep the exclusive form of art alive.Karimnagar in Andhra Pradesh also has highly skilled artists practicing the delicate craftsmanship of filigree. Spoons, buttons cigarette cases, boxes, ashtrays, buttons pill boxes, jewelry, paandans and perfume containers are produced. Designs of Peacock, parrots and fish are depicted in the perfume containers.The silver filigree work in India has been practiced in some parts of India where the art is considered as the source of livelihood to the artisans.
Silver filigree work is a style unique in itself. This work involves pure silver which is put through a wire drawing machine.The artifacts are made of alloy which contains over 90% of silver and to compete with the changing times new methods are being used.The artists have maintained the craft by keeping themselves updated with the market requirement. Platinum polish is also used and it leaves glare on the item. In olden days, the silver was beaten on an anvil and elongated into long wire by passing it through a steel plate with apertures of 36 wire gauges. They used to make designs that came to their mind without following any particular pattern for the filigree work. They used some very finely created grains or beads and spines of gold that were as thick as hair to create the items.The art may be said to consist in curling, twisting and plaiting fine pliable threads of metal, and uniting them at their points of contact with each other, and with the ground, by means of gold or silver solder and borax, by the help of the blowpipe. Small grains or beads of the same metals are often set in the eyes of volutes, on the junctions, or at intervals at which they will set off the wire-work effectively. The more delicate work is generally protected by framework of stouter wire. Two of the thinnest wires are wound around the 'charkha' after heating. It is then flattened again to get it as thin as the single wire originally was. It is then bent to give it different shapes. The created articles have a trellis-like appearance which involves crimping thin strips of silver into zigzag patterns and loops and filling up the designs that are made by thicker silver strips. A filigree article is thus a combination of different parts pieced together. The space within the frame is filled with the main ribs of the design which are usually, stems, leaves, creepers etc. Articles in plain silver are also made in the shape of boxes, trays, bowls, spoons etc.
This art form precisely has three main types known as 'fine', 'non-fine' and 'superb-fine'. They are they further divided into three main parts known as silka (frame), rua(small balls), gopal(rose).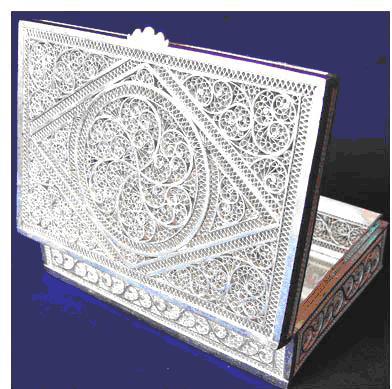 The innumerable products have touched chords the world over and that has boosted the production too. The traditional products are basically hairpin, sinthis, rose pin, earrings, bangles, mangalsutras, toe-rings, finger-rings, payals, candlestands, mirror stands, chariot wheels etc.The ornamental trees, brooch, pendants and the highly proportionate peacock motifs are living examples of exquisite craftsmanship. But above all, the most beautiful, innovative creation of a skilled master craftsman is the silver filigree gate and decoration at the 'Choudhury Bazar', pooja mandaps in Cuttack that is displaye during Dusshera festival. It is the biggest and only one of its kind in the world.
Items manufactured cover a wide range though they can be broadly divided into a few categories. First, we have the ornaments for the ladies which include necklaces, brooches, ear pendants, anklets, hair pins, decorative key rings and bangles etc.
We also have a few ornamental items for men like tie pins and cufflinks. Next we have the decorative items like boats or boita, replicas of temples, horses, elephants and other animals and chariots besides a variety of other items. Lastly, we have utility items like plates, cups, bowls, glasses mascara containers, indigenous spoon called belas for feeding milk to young children, incense containers, vermilion containers and ladies handbags. Though the above lists are fairly comprehensive they do not indicate the myriad varieties one can find for each item.The silver filigree and other silver items have, like other handicrafts, a very important socio-cultural function.
The child's first solid food, usually a sweet dish of rice, kheer, is served in a silver bowl and the elder specially grand-parents take pride in presenting the silver bowl for this function known as anna prasana. Like brass and bell metal items the bride is also usually presented a set of silver dishes which is reserved for offering food to the deities during religious festivals. Many temples have a set of silver ornaments for the presiding deities including silver crowns which are used on ceremonial occasions.
Filigree work, a lineage inherited art genius of Oriyas, constitute a part of the work of the silversmiths. For their traditional and hereditary calling they are locally called 'roopa banias' or 'roupyakars'. They have been trying hard to maintain the craft fidelity not withstanding the necessity drawing auxiliary work force from other sources by keeping trade secrets.
Silver filigree has been an important export item of Orissa from ancient times. This craft had sufficient encouragements during the Mughal period. Today export extends to various regions of the world such as Australia, US, Myanmar, Sri Lanka, UK etc. This art has undergone tremendous transformation and it would be a great moment to see this art form reaching out to the world on the new horizon. The artists with their vigour, versatility and creativity mingled with mechanisms had created a special place for themselves and this infinite beauty of filigree.