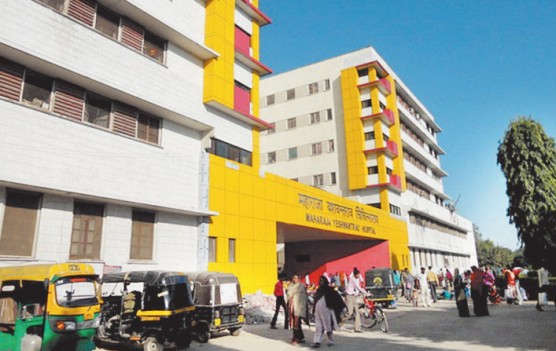 16th November 2016, Indore
Sankalp India Foundation and Maharaja Yeshwant Rao Hospital, Indore, a unit of the state government of Madhya Pradesh joined hands to start bone-marrow transplantation centre to cure the children suffering from thalassemia and sickle cell disease.
Maharaja Yeshwant Rao(MY) Hospital, Indore is a Government Institute committed to the care of children including ones with transfusion-dependent thalassemia. The hospital has initiated a project to setup a thalassemia BMT unit with an intention to treat children suffering from thalassemia and related haemoglobin disorders. The two organisations came together to leverage the expertise developed by Sankalp India Foundation together with its partner Cure2Children to enable high success rates, low complication rates and cost effectiveness to the new program initiated by the MY hospital.
On 16th November Mr Lalith Parmar visited Indore and met with the entire team including Divisional Commissioner - Sh. Sanjay Dubey, The Dean of Mahatma Gandhi Memorial Medical College - Dr Sharad Thora and the other members of the administration.
"Under our mission 'Thalassemia Free India', we will provide all possible help to MYH in starting BMT for thalassemia and sickle cell disease, treatment protocol, training of nurses and proper monitoring of each case through a software (BMTPlus management) to ensure higher success", Lalith Parmar the President of Sankalp India Foundation said.
Sankalp India Foundation will train the staff, provide logistics support, treatment protocols and HLA typing. The two organisations will work closely together for scientific advancement of cure from thalassemia and regularly engage in clinical and outcome reviews. The construction work at the centre in Indore is in advanced stages. Soon, the nurses from Indore will come to Sankalp-People Tree Centre for BMT, Bangalore for training. During the initial phase of the program, a senior nurse from Sankalp team will visit Indore. The first transplantation is expected to commence in early 2018. Beside this, on 25th December 2017, the two organisations are planning to organise an HLA typing camp for the patients at MY hospital.
This collaboration takes the mission that Sankalp serves one big step forward. We keenly look forward to enabling access to reliable cure for little children in Madhya Pradesh.