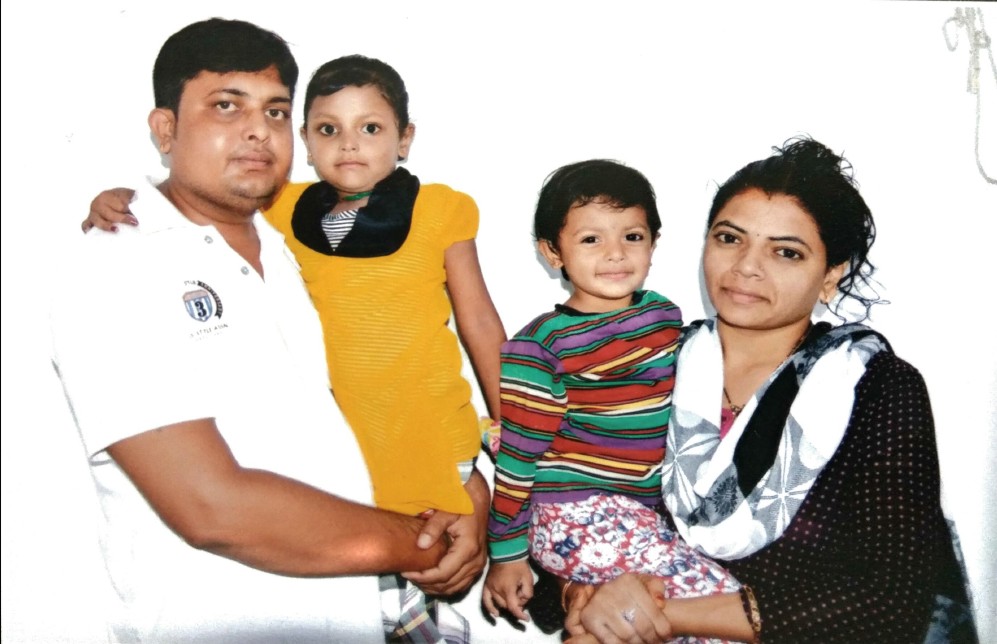 Manish and Meena met in a family function, fell in love, got married and their sweet married life started. Manish was a photographer by his profession. Since childhood he was fond of doing photography. At the young age he started doing photography in family function and later on he became a professional wedding photographer.  Living in a small town of Bhavnagar, his business was seasonal. Despite low income they were living happily.
After 2 years of marriage their first child arrived named Tanvi. At the time of delivery Meena was at father's house as it was her first delivery. After 3 months, during the vaccination process the medical person found that she was looking pale. The doctor advised them to go for hemoglobin check-up. The report of hemoglobin was low. The doctor then advised for thalassemia test as the test facilities was not available in the town they came to Ahmedabad for the test. After a day the report came, unfortunately the report was positive. It means she was suffering for a life threatening disease called thalassemia.
The doctor explained about the disease and told that now onwards, she will be needed a regular blood transfusions. He also added that the only cure of the disease is Bone Marrow Transplantation which costs Rs 12 to 15 lakhs. It was not possible to even think about the BMT as the cost was too high. Now she was taking regular blood transfusion in Bhavnagar.
Two years has passed and Meena got pregnant again. But this time they were cautious. She underwent for thalassemia test during her pregnancy. Fortunately the coming child was Thalassemia minor. After few months the child arrive. Her name was Dhani. When Dhani became 3 yrs old at that time they heard about opening a new Bone Marrow Transplant centre at Ahmedabad, which was started by Sankalp India Foundation. They inquired about it and found Free HLA matching program at Sankalp's CIMS Hospital centre.
They went there and met the coordinator. The coordinator explained about entire BMT process. They went for HLA test and after 5 months the report arrived. Fortunately it was full matched with her sister Dhani. But when they found about the cost they were depressed as it was not possible for a person who is doing photography work in a small town to bear the cost. When the Sankalp found about this they told not to worry for the cost. Sankalp assured them that it will assist them in raising funds for the remaining cost. They worked hard for the contribution but could manage for only Rs. 5 lakhs. The remaining amount was contributed by donors from Sankalp side.
And the day arrived. After proper down-staging process she got admitted in CIMS hospital, Ahmedabad. She was small and mischievous. But BMT staff took her care and treated her very well. After completing the procedure she was discharged from the hospital.
Currently she is under step down process and doing well. Soon she will become a normal kid and will live her life with joy. We wish her a happy and healthy life.