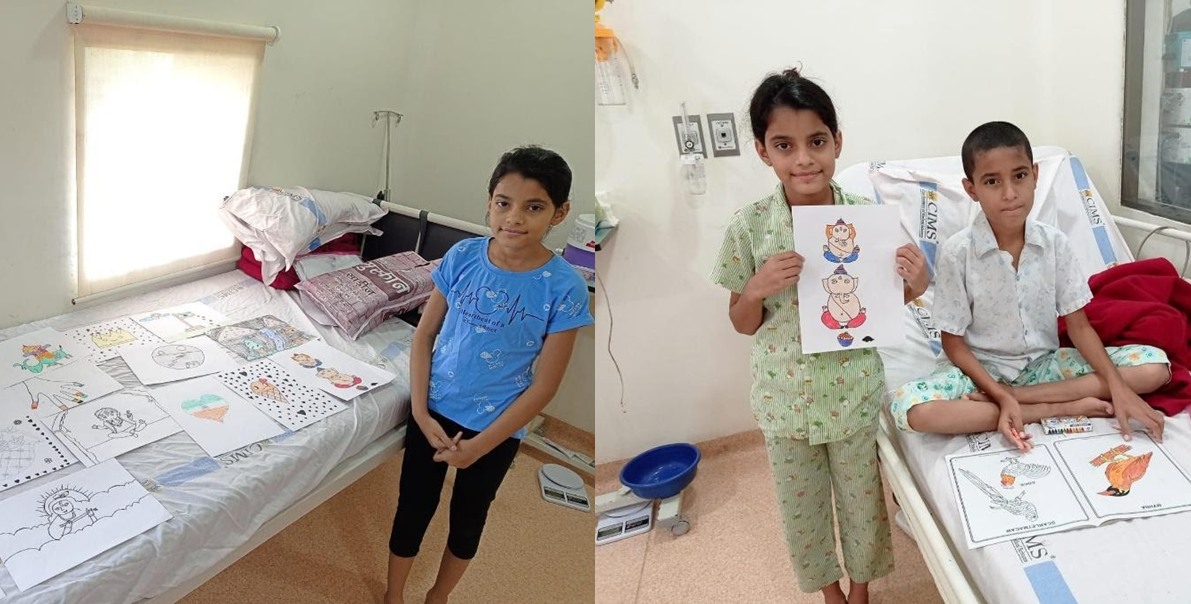 Bone marrow transplantation is not easy. It is a procedure with a long stay in the hospital. For the family comprising of the patient, donor and parents it is a period where emotions run high. All the days in the hospital, especially on the days when the patient is a little sick seems like a battle. While, as a team, we do our best to alleviate pain, sometimes it is the children themselves who find a way to make things lively for themselves.
Since the advent of covid, we have made it our policy to admit the patient and the donor at the same time.This is markedly different to the practice earlier where the donor would come in only a few days before the actual date of transplant and the patient would be put on a conditioning regimen. At our centres, we deal with the pediatric population and in > 90% cases the donor is a sibling and caretaker is the mother. One such mother who took care of her children in a similar setup elsewhere mentions that these are the days which creates life long memories. It is a time where the mother gets her kids together for a "WE" moment. Since the siblings are together, they end up playing, fighting, eating, and laughing together. Sometimes, one never knows if they would ever get such moments again. We at Sankalp sometimes capture these moments on camera. Here is one such instance.
Ishan, a child with Severe Thalassemia underwent Bone Marrow Transplant at the Sankalp-CIMS Pediatric Bone Marrow Transplant, Ahmedabad. He and his sibling Navya spent a lot of time together in the transplant room. Instead of doing the regular stuff of watching TV and playing with other electronic devices, the 2 siblings used this opportunity to start drawing together. Over 2 weeks they made beautiful drawings every day and filled the atmosphere around them with joy and fun. What a nice way to bond with your sibling!