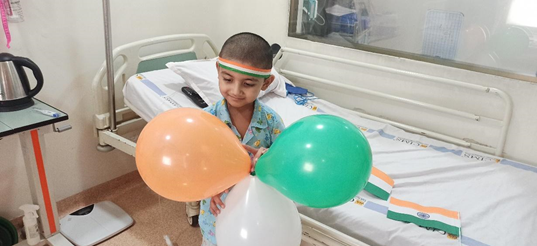 Amit and Bhagyashree were mere teenagers (aged 19 and 18 respectively) when their parents got them married. From the very beginning of their marriage, the young couple had to struggle to make ends meet. Despite completing basic education at college, Amit ended up doing the job of a priest in a small village to earn a living. Their village had only 4500 people and it was quite hard for all young men to find a good regular job.
After two years of wedlock, the young couple gave birth to a lovely son. For them, the child was a blessing from the almighty. He was showered with a lot of love and they ended up naming him as Love Amit Bhogayata signifying the togetherness of the couple. Everything went well until Love turned 6 months after which his health started to deteriorate. He started to look pale, with constant vomiting. Treatment at the primary healthcare centre did not turn out to be helpful and the couple were forced to seek care in a larger hospital outside their village. After a large number of investigations were done, it was clarified to the family that the little infant suffered from Thalassemia. With little or no counseling, for the first few days, the couple had very little clue as to what it meant for their child.
Hailing from a small place and with limited financial resources, the young parents set forth on a journey to treat and fight the disease. Love started taking blood transfusions at Porbandar, a coastal city in Gujarat. Unfortunately, at that time the blood available in the blood banks was not very reliable and Love ended up having been infected with HCV. This forced the family to seek transfusions at a slightly larger facility at Jamnagar which was about 110 km from their hometown.
Blinded by the desire to have their child cured, the parents performed many rituals on the insistence of the people in their village. Beyond a time they realized that if their sone had to be cured, the only hope is a Bone Marrow Transplant. Amit now set out on a path to find options to have his son undergo a Transplant. By now he was emotionally and financially drained.
He then came across a family where the child had undergone a Bone Marrow Transplant at Sankalp's Bone Marrow Transplant Centre at CIMS Hospital. He decided that he would give it a try. Although he realized that neither him nor his wife had a full HLA match with his son, he was given to realize that haplo identical transplant is a possibility. Amit himself was selected to be the most suitable donor. 10 months down the line, Love underwent BMT and the procedure seems to have gone well. During the course of the transplant, he was one of the favorite patients of the staff. He seemed to love the balloons and the flags and the celebrations that came along with the Independence Day in August.    
The parents were promised that financial resources would not be a problem. With some contribution coming in from the family, something from the government and money raised by Sankalp through it's donors, the cost of the transplant was covered. It's been 4 months since Love's transplant and we see him at our OPD coming in with a smile that radiates across the room. The parents are overjoyed and thankful to everyone who has played a part. To them it feels like a miracle that they could see this day - as if they have found light at the end of a dark tunnel. A few more months and hopefully Love would lead a life completely free of blood transfusions and medicines.