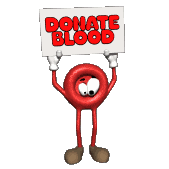 On 23rd May 2003 when a patient in one of the city hospitals died because he did not receive blood on time, Sankalp was born.
The commitment was simple. Whenever there is any requirement of blood which the blood banks in the city fail to satisfy, we requested them to forward it over to us. Sankalp 24 X 7 X 365 emergency blood helpline has been working since then taking up all emergency blood requests that come up.
The fragmented nature of the blood transfusion services led to un-necessary competition and seclusions. Blood banks did not work as one unit. We conceptualized and eventually realized a single helpline number that gave information about blood availability in various blood banks in Bangalore. Need Blood - Call 9480044444 Every time the donor went to donate, he/she was doubtful about his/her safety. Is this the right place to donate? Am I safe? Will they sell my blood? These questions were raised frequently and there were no sure answers.. Each party blew it's own trumpet. We explored, we studied and we came up with solution. We came up with information that answers the donor's questions and ensures the safest of all donations. The blood banks across the country face a problem in delivering good quality of service to the people. They are many time unable to deliver the gift of life. To ensure safe and sustainable supply of blood it was realized that enrollment of Voluntary Non-remunerative blood donors was a must. People wanted to donate blood. But there was little organized help to conduct camps. We are working on Rakta Kranti, the road to 100% Voluntary Non- Remunerative Blood donation. We are slowly changing attitudes. we are slowly pushing in reforms. We are providing help, but at the same time we are empowering people to help themselves. Read on to explore Sankalp Blood Donation Organization.
Comments
Nice to hear about the Blood Donation camp.
I've always been a fan of donating blood. It helps out people that are in need. Where can I find out more information about the Blood Donation Camp?
Hi Manuj,
You can contact BloodConnect (camps@bloodconnect.org). We are an organization comprising of students and alumni from IIT Delhi and DU,
We have been functional for more than an year now, and have organized 15+ camps across delhi.
Or else, you can contact me directly nitin@bloodconnect.org .
cheers
Nitin
u can register ur name in the new life fountation.they are ready to give ur blood who is really needed
\