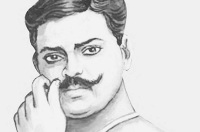 Chandrashekhar Azad was a great Indian freedom fighter. His fierce patriotism and courage inspired others of his generation to enter freedom struggle. Chandrasekhar Azad was the mentor Bhagat Singh, and along with Bhagat Singh, he is considered as one of the greatest revolutionaries who dawned in the soil of the nation. He was one of the most important revolutionaries who reorganised the Hindustan Republican Association under the new name of Hindustan Socialist Republican Association (HSRA) after the death of its founder Pandit Ram Prasad Bismil and three other prominent party leaders, Thakur Roshan Singh, Rajendra Nath Lahiri and Ashfaqulla Khan. He was the chief strategist of the HSRA. He played key role in Kakori Train Robbery (1926), the attempt to blow up the Viceroy's train (1926), and the shooting of Saunders at Lahore (1928) to avenge the killing of Lala Lajpat Rai.
Chandra Shekhar Azad was born on July 23, 1906 in Badarka village of Unnao district in Uttar Pradesh. His parents were Pandit Sitaram Tiwari and Jagarani Devi. Pandit Sitaram Tiwari was serving in erstwhile estate of Alirajpur and Chandra Shekhar Azad's childhood was spent in the village Bhabra. On the insistence of her mother Jagrani Devi, Chandra Shekhar Azad went to Kashi Vidyapeeth, Benaras for studying Sanskrit.
Chandrashekhar Azad was deeply troubled by the Jallianwala Bagh Massacre in Amritsar in 1919. In 1921, when Mahatma Gandhi launched Non-Cooperation movement, Chandrasekhar Azad actively participated in revolutionary activities. He received his first punishment at the age of fifteen. Chandra Shekhar was caught while indulging in revolutionary activities. When the magistrate asked him his name, he said "Azad" (meaning free). Chandrashekhar Azad was sentenced to fifteen lashes. With each stroke of the whip the young Chandrasekhar shouted "Bharat Mata Ki Jai". From then on Chandrashekhar assumed the title of Azad and came to known as Chandrashekhar Azad. Chandrashekhar Azad vowed that he would never be arrested by the British police and would die as free man.
After the suspension of non-cooperation movement, Chandrashekhar Azad was attracted towards more aggressive and revolutionary ideals. He committed himself to complete independence by any means. Chandrashekhar Azad and his compatriots would target British officials known for their oppressive actions against ordinary people and freedom fighters.
Chandra Shekhar Azad made Jhansi his organisation's hub for a considerable duration. He chose the forest of Orchha situated at about fifteen kilometers from Jhansi for shooting practice. He was an expert marksman and used to train other members of his group in Orchha. Near the forest he built a hut aside a Hanuman Temple on the banks of the Satar River. He lived there under the alias of Pandit Harishankar Brahmachari for a long period, and started teaching kids of the nearby village Dhimarpura. In this way he managed to establish good rapport with the local residents. The village Dhimarpura was renamed as Azadpura by the Madhya Pradesh government.
While living in Jhansi, he also learnt to drive a car at Bundelkhand Motor Garage in Sadar Bazar of the cantonment area. Sadashivrao Malkapurkar, Vishwanath Vaishampayan and Bhagwan Das Mahaur came in close contact with him and became an integral part of his revolutionary group. The then congress leaders from Jhansi Pandit Raghunath Vinayak Dhulekar and Pandit Sitaram Bhaskar Bhagwat were also close to Azad. He also stayed for sometime in the house of Master Rudra Narayan Singh situated at Nai Basti and Pandit Sitaram Bhaskar Bhagwat's house in Nagra.
The HRA was formed by Ram Prasad Bismil, Yogesh Chandra Chatterji, Sachindra Nath Sanyal and Shachindra Nath Bakshi in 1924 just after two year of the Non co-operation movement. In the aftermath of the Kakori train robbery in 1925, the British clamped down on revolutionary activities. Prasad, Ashfaqulla Khan, Thakur Roshan Singh and Rajendra Nath Lahiri were sentenced to death for their participation. Chandra Shekhar Azad, Keshab Chakravarthy and Murari Sharma, who participated equally in the act, evaded capture. Chandra Shekhar Azad later reorganized the HRA with the help of revolutionaries like Sheo Verma and Mahaveer Singh. Azad was also a close associate of Bhagwati Charan Vohra who along with Bhagat Singh, Sukhdev, and Rajguru, helped him to transform the HRA into the HSRA in 1928 so as to achieve their primary aim of an independent India based on socialist principles.
Chandrashekhar Azad was a terror for British police. He was first on their hit list and the British police badly wanted to capture him dead or alive.
In the last week of Feb, 1931 Azad went to Sitapur Jail and met Ganesh Shankar Vidyarthi. He hoped that Vidyarthi would involve in the case of Bhagat Singh and others as he had previously done in the Kakori conspiracy case. Vidyarthi suggested him to go to Allahabad and meet Pandit Jawahar Lal Nehru. If he could be convinced, Nehru would be able to persuade Gandhi to talk to the Viceroy Lord Irwin and reach an agreement with the British Government in the forthcoming Gandhi-Irwin Pact. Azad met Pandit Nehru in the early morning of 27 February 1931 at his residence Anand Bhawan in Allahabad and held talks with him. Nehru was not convinced with Azad's arguments and asked Azad to leave his place. A furious Azad left immediately.
From Anand Bhawan he went to the Alfred Park on his bicycle. He sat under a tree of Jamun after propping his bicycle on the tree. He was discussing some confidential matters with a fellow party member, Sukhdev Raj when Deputy Superintendent of Police Bisheshwar Singh along with S.S.P. (C.I.D.) John Nott-Bower arrived there. Nott-Bower, pointed his finger towards Azad, to tell Bisheshwar Singh that this corpulent man was the person about whom he was informed just now by some reliable sources. Seeing a policeman pointing out his finger towards him, Azad immediately dragged out his Colt pistol from pocket and fired at Nott-Bower, hitting him in the right wrist. Seeing his senior officer soaked in blood, Bisheshwar Singh abused Azad. Azad immediately shot Bisheshwar Singh in his mouth, breaking his jaw. Within a few minutes, the police surrounded Alfred Park. During the initial encounter, Azad suffered a severe bullet wound in his right thigh, making it difficult for him to escape. But even then he made it possible for Sukhdev Raj to escape by providing him a cover fire. After Sukhdev Raj escaped, Azad managed to keep the police at bay for a long time.
Finally, with only one bullet left in his pistol and being completely surrounded and outnumbered, Chandra Shekhar Azad shot himself, keeping his pledge to never be captured alive. At the age of 15, he once claimed that as his name was "Azad", he would never be taken alive by police. He kept his promise till his last breath.