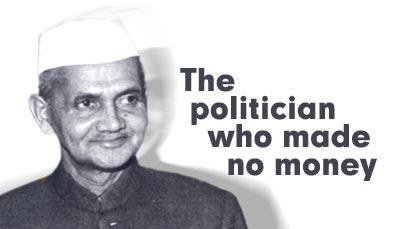 I thought I will introduce him not by my words but by his own. A person who took led the country through the worst times after independence. Wake up. You are just about to meet one of the Greatest Son of Bharat Mata.
He describes himself as -"I am an ordinary man and not a very bright man."
"If one person gives up one meal in a day, some other person gets his only meal of the day", spoken during the food crisis to encourage people to evenly distribute food.
"Perhaps due to my being small in size and soft of tongue, people are apt to believe that I am not able to be very firm. Though not physically strong, I think I am internally not so weak." - after taking moral responsibility of a railway accident.
"Hathiyaron ka jawab hathiyaron se denge. (Force will be met with force.) Hamara desh rahega to hamara tiranga rahega. (Our flag will survive only if our country does)" - while declaring a war on Pakistan from Red Fort.
'O Nanak! Be tiny like the grass, for other plants will whither away, but grass will remain ever green.' - the quote that stayed at his desk.
"He never aspired to power. He never worked for it."
"Jai Jawan, Jai Kisan"
He should have been the name in the hearts of all the Indians. Little children should have grown up listening to his tales. If only you and I had a small fragment of the rare combination of strength and humility that he had, our nation would have already been a very different place.
I request for your precious time to know him.