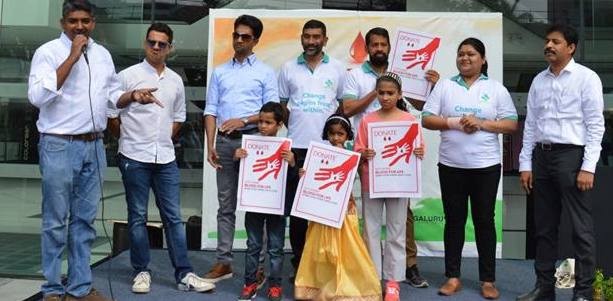 A single can create million smiles!!
As we all celebrated the Republic Day with high patriotic spirit, there was a group of Volunteers from Healing Touch Society, who have stood out to make a difference!
On 26th Jan, 2019, a blood donation drive was held at VR Bengaluru, organized by Healing Touch Society in association with Sankalp India Foundation and ID Fresh Foods. 190 units of blood were collected in the event by Narayana Hrudalaya Blood Bank. The vent has set a new benchmark for public blood donation drives.
This camp proves that every individual can make an impact and save lives. The Healing Touch Group Volunteers are working professionals who took out time from their busy schedule to ensure that publicity is done to reach out to the maximum number of people. The publicity campaign was started one month before to ensure increased participation from voluntary blood donors. Social Media- Facebook, WhatsApp, and Twitter were used extensively to reach out to maximum number of people. Pre-registration link was created to ensure that the team is well prepared to meet up the footfall of donors.
Extensive reach was created by publishing about the blood donation drives in newspapers-both in English and vernacular languages. 3000+ brochures were distributed in the nearby apartments, shops, malls etc. Brochures were also along with the morning newspapers. Standee banners were put up at all the floors at VR Mall. The campaign concept created was inclusive to all relevant audiences, engaging and personal; it highlighted the human touch to donating blood.
Sankalp India Foundation also helped out to reach to the maximum number of donors. SMS Campaign was used for reaching out to all the registered donors with Sankalp India Foundation, residing in the areas in and surrounding Whitefield.
The donors who came for donating blood were handed over certificates from Blood Bank and Healing Touch Society along with a sapling and gift box. VR Bengaluru made announcements using the PA system about the blood donation drive at regular intervals to inform the crowd at the malls.
RJ Kay had also come in for the inauguration program and motivated donors in the mall to donate blood. He also shared his experience of how he has been donating regularly and has helped save lives.
The donors had wonderful experience. Mr. Vasudev Ballaney quotes "Had personally been yesterday-26/01/19, at VR Bengaluru Mall, Whitefield for blood donation for 81st time. I am impressed the way the donation drive is taken care of. Very humble, polite, sympathetic and systematic approach to the drive."
An Anonymous donor quote- "I did not want to spend Republic Day celebrating it as a holiday and showing my patriotic spirit by posting on Facebook. I stay very nearby and I have seen the event on Facebook-that moment itself I took a decision to make a difference. Donate Blood and Save Lives!"
Gowtham Sampath Kumar states-"I came to donate blood to give back to the society in any way I can"