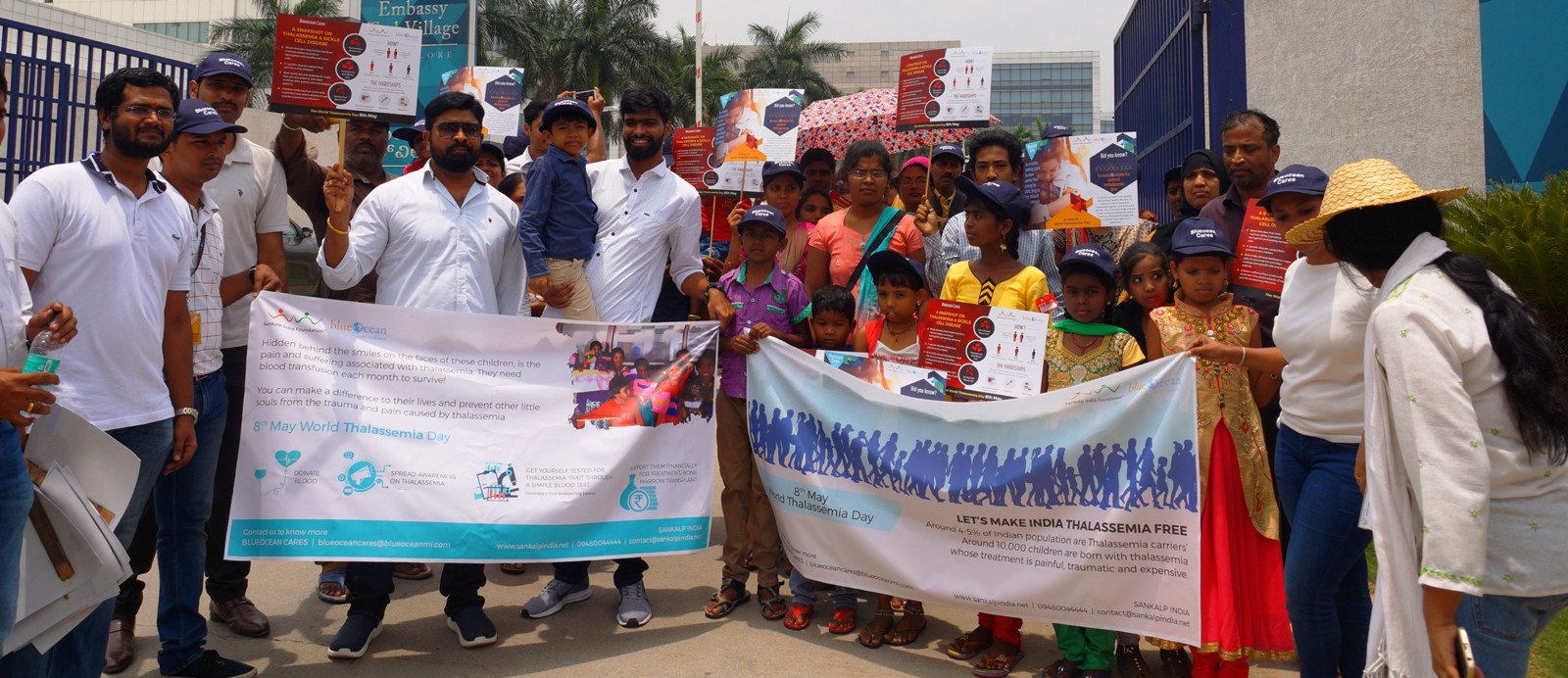 8th May 2018, Bangalore
It is estimated that about 3000 patients continue to live with thalassemia in Karnataka. Thalassemia patients depend upon blood transfusions every few weeks for their entire lifetime for survival. More thalassemiacs continue to be born in-spite of the fact that this disorder is preventable by screening parents at antenatal stage.
In order to raise awareness about the issue, Blueocean Market Intelligence joined hands with Sankalp India Foundation to organize "A Walk for Thalassemia Prevention" on 8 May 2018. The 6 km walk which started at Blue Ocean's campus in Embassy Tech Village, Marathahalli at 11:30 AM covered the distance from there until the EcoSpace Skywalk, Panathur underpass and concluded with a tour of Embassy Tech Village. It attracted over 150 people including working professionals, children suffering from thalassemia, apart from members of both Sankalp and Blue Ocean.
Thalassemia is a genetic blood disorder passed down through families in which the body makes an abnormal form of hemoglobin, resulting in an excessively rapid rate of destruction of red blood cells, which leads to severe anemia. Treatment necessitates lifelong regular periodic blood transfusions, medications all through their lives, which are painful and a physical, psychological, and financial burden to both patients and their families. It is estimated that every year nearly 10,000-12,000 children are born with this disorder. This is in addition to the estimated 200,000 children already living with this condition. Raising awareness about the disease, screening, and its prevention is extremely important. It is estimated that nearly 4% of the Indian population is said to have a thalassemia trait. Perennial blood shortage, absence of public funding in healthcare, lifelong suffering to the children, parents and families truly make Thalassemia a grave national health challenge.
A Walkathon was organized to raise public awareness about this disease, prevention measures and measures to avoid its transmission. The children along with their parents and the adults, who come to receive systematic care and treatment at the Thalassaemia day care centers of Sankalp India Foundation came with a new vigor and hope to participate in the Walkathon.
It was the first CSR Initiative from Blueocean Cares and it was a huge success! The participation from the employees were overwhelming and it was fantastic to note that despite the smoldering heat, the work pressure, people took time out to walk a distance of 4 kms to show that they care as individuals and collectively as an organization. Their enthusiasm and commitment to the cause is truly laudable.
Thalassemia can be prevented
Thalassemia prevention is a possibility. It requires a simple blood test of expecting parents to confirm that they have a trait. Unfortunately this is not part of the routine investigations planned by gynaecologists. If every woman is checked for this at the time of her first pregnancy and is found to have a trait, the partner also could be tested. If both of them have the trait, then antenatal diagnosis can be carried out to determine if the foetus is positive for thalassemia major. If yes, there is an opportunity at hand to prevent the birth of a child with thalassemia and avoid potential suffering for a lifetime for the family.
"When our family received the news that we are going to have a baby, we went to the gynaecologists and did all the tests that they asked us to. A few months after the birth of our baby girl we were told that she had thalassemia. If only the gynecologist had screened us for thalassemia during early stage, the suffering that we are going through could have been avoided" -  Sameer, father of a thalassemic child.
Government needs to do more
In several forums both the Government of India and Government of Karnataka has spoken of the need to start a strong campaign for thalassemia prevention. Unfortunately, nothing much has happened. For example, In March 2017, Government of Karnataka had announced that universal screening for thalassemia would be done for pregnant mothers in the state. Even after a year, this announcement has not converted into action on ground. In order to remind the Government of the need to urgently start the screening for thalassemia, the team also created an online petition aimed to be submitted to the Ministry Of Health & Family Welfare, Government Of India and Government of Karnataka appealing for the decision on thalassemia screening to be included in the set of routine investigations planned during the first pregnancy of a lady to be enforced. The petition is accessible at http://change.org/p/ministry-of-health-family-welfare-let-s-make-india-….
It took Sankalp 6 years to build 4 day care centres and streamline management in 3 different cities. While of-course the government machinery thanks to the availability of resources and manpower can change things quickly, it is clear that orders and mandates don't work. A thalassemia day care centre for every 200 km is ideal. In that sense, Karnataka needs only 6-8. The story is same for antenatal screening as well. Another government order at the same time – March 2017 mentioned that antenatal screening would be available in each district. The fact remains that even in Bangalore, the state capital, economically weak families have nowhere to go.
Perhaps it is time that the authorities relook at their decisions and track progress. Strengthening existing centres by empaneling them and providing support should be considered. While Sankalp has been trying to pitch for this at several forums, it often falls on deaf ears!