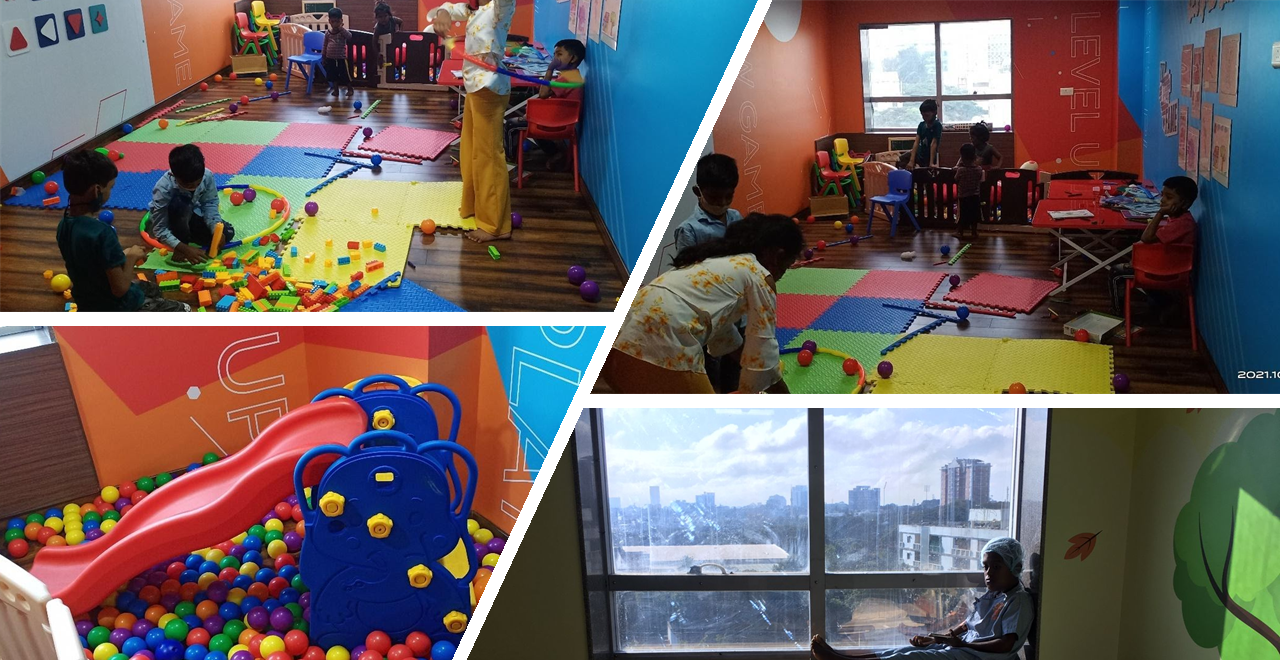 The new BMJH-Sankalp BMT facility at Bangalore is buzzing with a lot of activity. Every day there are quite a few children lining up to meet the doctor in the outpatient clinics and there are 8-10 in patients receiving care. While it is true that they have been affected by some deadly disorders, the child in them always wants to play and have fun - like every other child. 
At an age when they should be enjoying their childhood to the fullest by going to school, playing with toys, talking to dolls, making sand palaces etc, unfortunately, their world is filled with images of syringes, blood bags, doctors, nurses and caregivers all giving them some treatment.
The outpatient clinic is usually buzzing with a lot of activity. While some of them are the ones who have completed the tough course of hospitalisation during transplant, there are quite a few others who come in for pre transplant evaluation and transplant preparation. In an effort to make our unit more kid-friendly in the outpatient clinics, we have incorporated a play area. It is a welcoming and enticing room for many of the little kids who come in. There is a wall to showcase the kids' drawings, a small slide with a ball pool at a corner, little tables to solve puzzles, make building blocks, legos, draw, paint etc. Even though they are in a hospital, this place allows them to escape into their own dreamland for sometime.
Each of our in-patient rooms has story boards depicting tales from the Panchatantra with the stories written alongside. Storybooks, drawing materials help them pass the time creatively as the nurses and doctors are planning care. The rooms have huge windows to help the children get a glimpse of the outside world, look at the nice blue skies and enjoy the beautiful sun rays early in the morning. This helps them feel free and not confined within the four walls. A flat-screen television takes care of the entertainment factor. 
It is our constant endeavor to engage with the children admitted in our hospital in a fun and cheerful way, so as to give them an experience very much unlike a conventional hospital. We believe in treatment with a difference, and we hope to continue to serve as many kids in need as we can in the future.