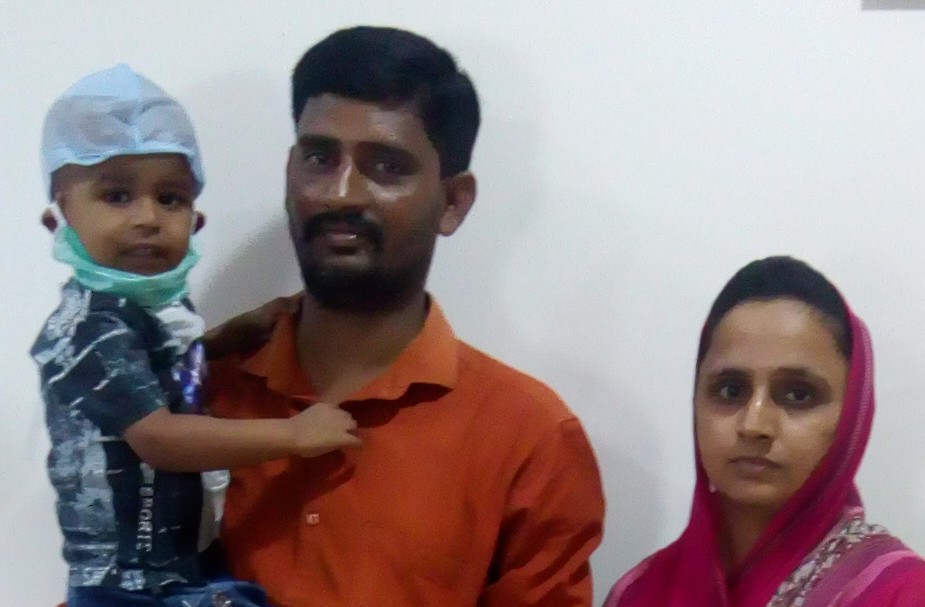 Nani Vavdi is a very small village near the Morbi city in the western part of Gujarat. The village has a limited number of populations.  Bhaudeepsing and Varshaba got married a few years ago and started a "Happy Married Life". 
Bhaudeep was a school auto rickshaw driver, who was earning very less but that was quite sufficient to survive in a small village.
After one year of marriage their lives bloomed, because of having a birth of a little princess named Dhara. They all were living happily in a joint family. Again after 2-3 years Varshaba gave birth to a small prince named Kamaraj.
After six months something went wrong, Kamaraj started looking pale. Bhaudeep took him to the primary health care center but the doctor advised them to take him to Morbi Civil Hospital as there was no sufficient medical facility for the treatment.  At Civil hospital the doctor advised them for a few blood tests. After seeing the reports, the doctor was shocked to see that the child was suffering from a life threatening disorder called Thalassemia. It means now Kamaraj needed blood transfusion every month for life.
Many of their relatives advised them not to go for further treatment and plan for another healthy child! But the family was against it and had decided to fight the disease till the end and to save their prince.
Every 25-30 days they used to go to Morbi Civil Hospital for blood transfusions, as it was working out to be costly in a private hospital. Kamaraj was also on iron chelation treatment to avoid overload of iron in his internal body parts. This treatment became a part of life for the family. In spite of free treatment, it was very tedious for the family. They were looking for a permanent solution for this disease.
Finally they heard about the solution at their blood transfusion center. They came to know about free HLA matching camp at Rajkot which was organized by Sankalp India Foundation. They came to know about the Bone Marrow Transplantation, which is the only permanent cure for thalassemia disease. They underwent an HLA test at the camp. Few months later the test reports revealed that Kamaraj has a fully matched donor, his sister. The family found it difficult as the treatment was going to be very expensive and they would never be able to afford it. But with regular interaction with Sankalp medical team and coordinators assurance for the financial support, the family gained hope and confidence to proceed for the Bone Marrow Transplantation.
The family raised some funds and the balance was raised by the Sankalp India Foundation. Karmaraj underwent BMT at CIMS hospital, Ahmedabad. He has been discharged and is under post transplant care. The family is happy to see the child, a new life without blood transfusion and slowly recovering and getting into a normal life.
Sankalp team wishes Karmaraj a speedy recovery!