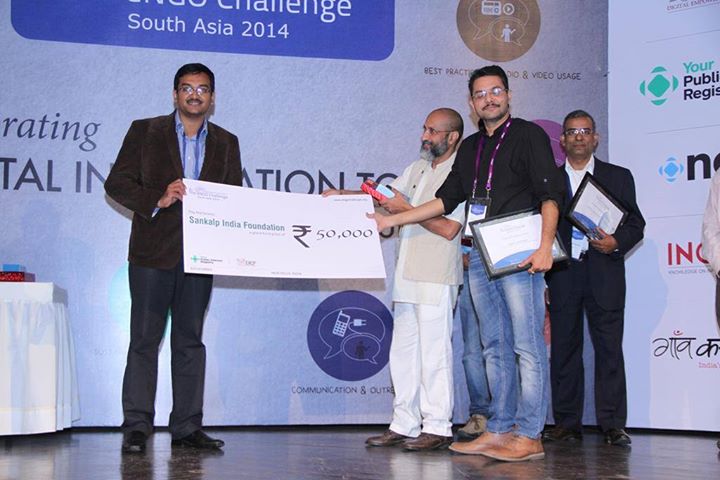 Complains about lack of resources has been one of the most common excuse that we give ourselves for not working upon our dreams.  We keep waiting for that ideal situations when everything falls in place in just right manner for us to take our steps forward in the direction of our goals. Instead of waiting for the right blend of resources, opportunity and ideas what we must ask ourselves is how effectively and efficiently are we using what is already available to us. 
Sankalp India Foundation has been an organisation always attempting to make the best of what is available. The organisation strongly pushes  it's people and processes to obtain very high degree of efficiency. Technology has played a key role in enabling the organisation to achieve extremely high efficiency and quality. 
The eNGO Challenge is a joint initiative of Public Interest Registry (not-for-profit created by the Internet Society in 2002 to manage the .ORG domains ) and Digital Empowerment Foundation. They constituted the e-ngo challenge for recognizing the best practices in use of digital media by organisations.  Sankalp India Foundation applied in the 'Organisational Efficiency' category for the same.  Out of 307 applicants Sankalp made it to the finals with very worthy and large scale competitors like SOS Children village and Institute of Integrated Rural Development(IIRD).  We are happy to announce that Sankalp was chosen as the winner  in it's category. 
The recognition of Sankalp's organisational efficiency and transparency is very encouraging, especially in light of the very worthy competitors. The volunteer representing Sankalp at the award program organised at India Habitat Centre in Delhi received lot of appreciation. This award further strengthens our commitment to ensuring that the organisation strives to achieve the pinnacle of transparency and efficiency.