16 April 2014, Mumbai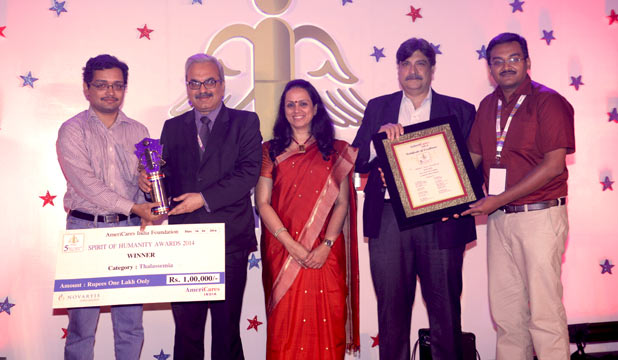 Sankalp India Foundation won the Spirit of Humanity Award, which is given by Americares, India as a recognition of the exemplary contribution towards the underprivileged by not-for-profit organizations and individuals in the field of healthcare. Sankalp was the winner in the category of 'Thalassemia'.  A trophie, a certificate of appreciation and a prize amount of Rs.1,00,000/- was received by the Sankalp volunteers who attended the ceremony at Mumbai.
Sankalp has been supporting 3 thalassemia day care centers with a total enrollment of 420+ children in Bangalore and very recently in Mumbai. The organisation has been working to come up with working strategies to make treatment and management of thalassemia accessible to the poorest of poor. A whole lot of innovation is involved in making sure that the delivery of healthcare is in-line with international recommendations and protocols, yet, at low cost. Award programs like these where eminent people in healthcare carefully scrutinize the work being done give the organisation an opportunity to seek a review of the organisation's work. The positive feedback and words of encouragement which were received from the jury members and other fellow organisations alike strengthens the belief that we are headed in the right direction.
 
Sankalp seeks to ensure that every child suffering from thalassemia has access to appropriate, adequate and well monitored management. The organisation seeks to mitigate the adverse impact of insufficient and incorrect management strategies so as to ensure that each child born with thalassemia lives a new normal life, gets married, has a family and contributes positively to the society.

 
The organisation dedicates this award to the 3 organisations the relentless work done by the administrators and staff of which have made this program a success;  Indira Gandhi Institute of Child Health - Bangalore, Rashtrotthana Parishat - Bangalore and Lokmanya Tilak Municipal General Hospital - Mumbai. We also salute the great spirit of the children to come and take treatment every month.  
 
Sankalp India Foundation does take note of the immense work that so many people have been doing for the sake of prevention and management of thalassemia. We must take this opportunity to  express our gratitude towards  those who have been teachers, support, inspiration and example for the organisation. An apt quote for our feelings is "If we have seen further it is by standing on the shoulders of Giants."