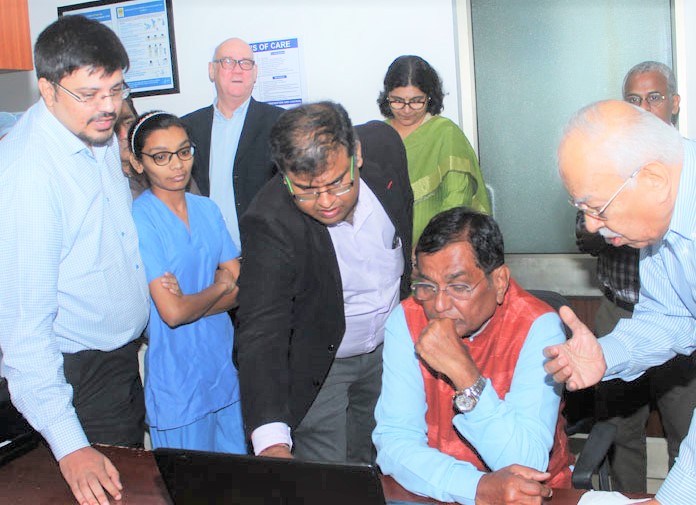 AHMEDABAD :   How Thalassemia major is a national health challenge caught the interest and attention of Dr Kirit Premjibhai  Solanki, Member of Parliament, Ahmedabad West, when he paid a visit to a Thalassemia Day Care center and a Bone Marrow Transplant center at CIMS Hospital, followed by a Symposium on Thalassemia Prevention on Wednesday, 16th October 2019. These events were organized jointly by Shree Jalaram Abhyudhaya Sadbhavana Trust, Ahmedabad; Sankalp India Foundation, Bangalore; and Amit Iyer Memorial Foundation, Mumbai; at CIMS Hospital auditorium.
Dr Solanki's interacted with Thalassemia major children and parents, made enquiries with each one of them and distributed small gifts to the children. He was overwhelmed to hear about the suffering these children go through and empathized with them. Thereafter, he paid a visit to the Bone Marrow Transplant centre at CIMS Hospital and personally observed the manner in which this cure for Thalassemia is administered.  He was quite impressed to know that this centre has cured over 90 children in the last two years and the success rate is 95%. He was also glad to know that BMT is being offered at a low cost of Rs 9 lakhs only on a not-for-profit basis.
In the following Symposium Mr S V Iyer, Trustee of Amit Iyer Memorial Foundation in his keynote address emphasized the importance and need for an effective prevention programme. He concluded that a targeted approach of screening every woman at her first pregnancy is the most effective and practical way forward. On behalf of Dr Kirit Solanki, who is also the Chairman of Indian Medical Parliamentarians Forum (IMPF), Mr Vinod Bhanu assured that IMPF will do all in their power to propagate and promote the prevention program.
Dr. Deepa Trivedi, Peadiatric Heamatology-Oncologist & Head of the BMT unit made an interesting presentation on the work the BMT centre is doing.  Dr Lawrence Faulkner of Cure2Children, Italy, drew attention to the need for an effective prevention program for India and related his experience in other countries like Italy. The welcome address was made by Mr Lalith Parmar, President of Sankalp India Foundation, and a Vote of Thanks was extended by Mr Rajiv Ravani, trustee of Shree Jalaram Abhyudhaya Sadbhavana Trust. The program was attended by NGO's like TSCS, Hyderabad, Ved Foundation, Ahmedabad and many more.