As part of the continuous learning initiatives adopted by Sankalp, a 2 day meeting for coordinators, nursing staff and doctors from the multiple thalassemia day care centres where Sankalp is involved was organized in Bangalore on the 23rd and 24th of January 2019
People from the following thalassemia Day Care Centre were present
Indira Gandhi Institute Of Child Health, Bangalore
Project Samraksha, Bangalore
Jai Shiv Shakti Centre for Thalassemia Management, KLE Hospital, Belgaum
District Wenlock Hospital, Mangalore
Thalassemia Society of Central India, Rughwani Hospital, Nagpur
Indian Red Cross Society, Rajkot
RMM Global Hospitals, Abu Road
Rural Development Trust, Ananthpur
The event saw active engagement of participants in several sessions. Dr Lawrence Faulkner, Pediatric Hemato-Oncologist and Lead Medical Coordinator of Cure2Children and Sankalp India Foundation, spoke about the need for care to be very organized and focused on quality. He reiterated that the success that Sankalp has seen with it's BMT initiative is down to the fact that care in the day care centres has been very focused.
Dr Stalin Ramprakash, Pediatric Hemato-Oncologist and Program Director of the Sankalp People Tree Centre for Pediatric Bone Marrow Transplant spoke at length and enlightened the attendants on effective transfusion techniques by discussing the transfusion protocols and citing several example situations. Dr Raghuram, consultant Pediatric Hemato Oncologist at Sankalp People Tree Hospital spoke about methods of diagnosis and treatment for other hematological disorders apart from thalassemia including usage of Hydroxyurea for different conditions.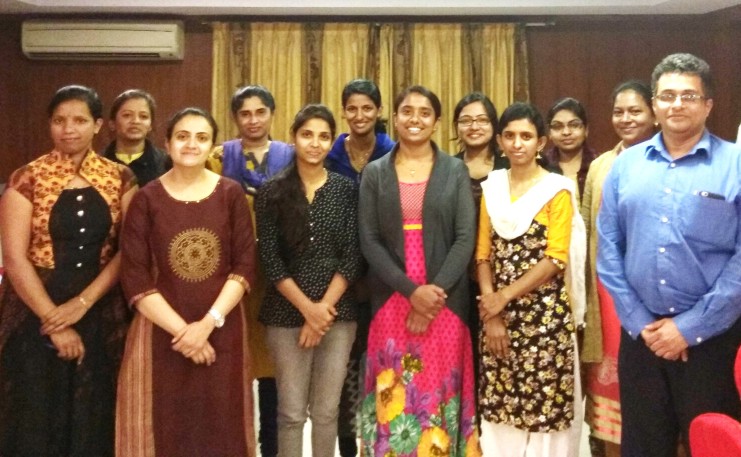 We also laid out the protocols for chelation management, management of organomegaly, treating sero positive patients etc. Mr Santhosh Hegde, project manager of the Sankalp program for thalassemia management introduced all the new features in ThalCare and spoke about the regular errors and gaps seen in data entry.
Ms Rajeshwari Shastry, a play therapist, engaged the participants in activities of fun and games and touched upon the sensitive yet important subject of regular counselling, dealing with difficult families and children etc.
Overall, over the 2 days through constant questions and interactions, the participants went back with loads of new things learnt. All of them expressed interest in participating in more such sessions in the future. By their own admission, it was a welcome break from day to day patient management - with the centres being thronged by patients everyday, the staff seldom have time for any introspection of work and opportunities to interact and learn new things.
***
"Information Technology-Assisted Treatment Planning and Performance Assessment for Severe Thalassemia Care in Low- and Middle-Income Countries:Observational Study" Published in JIMR
Technology helps improve care for thalassemia! That's our message in the prestigious Journal for Internet Medical Research published. Another step in the direction of "Thalassemia Free India".
Link: https://medinform.jmir.org/2019/1/e9291
DOI: 10.2196/medinform.9291 PMID: 30672740