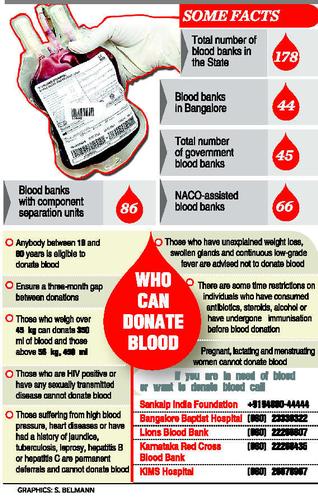 At 18 months, C. Hema, now 11 years, was diagnosed with thalassemia major. Since then, she has undergone at least 50 blood transfusions. Looking pale, with a needle jabbing her and blood dripping down, she said: "I could neither climb the steps nor write in class during the last few days. But after my blood transfusion, I can go back and skip with my friend."
A monthly visit to the Indira Gandhi Institute of Child Health to get a blood transfusion is routine to fix her haemoglobin levels. Her mother Varalakshmi S., a single parent, recalls the time six years ago when the haemoglobin count fell to five.
"I was tired of running around hospitals and blood banks and had stopped blood transfusions for over a year. She became very critical and there was no blood available in the blood bank. That day was a nightmare for me," she said.
For those suffering from various ailments a drop of blood is as precious as liquid gold. The theme of this year's World Blood Donor Day, on Friday, is 'Give the Gift of Life: Donate Blood'.
Rakesh Kumar (36), who works in a polytechnic college, was suffering from piles and was admitted at the ESI hospital in Rajajinagar. "I wanted O+ blood and did not get it yesterday. My wife had to go to a voluntary blood bank. I have got only one unit of blood and need to find another donor." The blood bank officer at the hospital admitted that the demand outstripped supply despite the numerous blood donation camps. Another official at the Victoria Hospital mentioned that his problem was shortage for negative blood groups.
The key message by the World Health Organisation is that a single unit of blood donated can save up to three lives. This is done by separating the components of whole blood into fresh frozen plasma (lifespan of one year), platelet (lifespan of five days) and packed red cells (lifespan of 35 days). Doctors also emphasise that different health ailments require different varieties of blood.
Dengue cases
While patients in private hospitals get blood from the blood bank after they replace the blood they purchase, most government hospitals depend on voluntary donations to stock up. Some blood banksThe Hindu contacted said the period between April and June have been bad with the rise in dengue cases.
Another aspect that the WHO is striving to promote is to urge blood banks to obtain all their supplies from voluntary unpaid donors by 2020.
Blood is still a scarce health resource