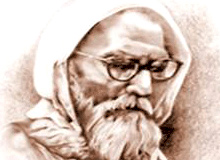 Vinoba Bhave stands as a symbol for the struggle of the good against the evil, of spiritual against the mundane. He was a spiritual visionary, whose spirituality had a pragmatic stance with intense concern for the deprived. He was a brilliant scholar who could knowledge accessible to ordinary people. He was a saint, man of God, moral tribune, a beacon of hope and solace to millions in India and abroad.
Vinoba, often called Acharya (In Sanskrit and Hindi means teacher), was an Indian freedom fighter. He is considered as a National Teacher of India and the spiritual successor of Mahatma Gandhi. He was an ardent follower of Gandhi, who retained his originality in thinking.
Everyone was totally impressed by this man, rather a messiah. His spirit, his endurance, patience, humility, scholarship, devotion to public causes - all these qualities amazed anyone who met him.
Untouched by publicity and attention, Vinoba had continued his efforts for a just and equitable society. In fact, his life is a saga of his commitment to nonviolent ways of bringing change, his yearning for the highest level of spirituality and his unwavering faith in human values and love. He stands as a symbol for the struggle of the good against the evil, of spiritual against the mundane.
Vinoba was always surrounded by adoring crowds wherever he went. He was a gentle, half-deaf little wisp of a man, dressed in the garb of poverty—a homespun dhoti and cheap brown canvas sneakers—but lighted by a flame of authority that has made him one of India's most notable spiritual leaders. In two years he had become such a power in India that only Prime Minister Jawaharlal Nehru is better known to the Indian masses. He was a living legend.
Birth and Family
Vinoba Bhave was born in the village of Gagode, in Kolaba district of Maharashtra on September 11, 1895 into a pious family of the Chitpavan Brahmin clan. His birth name was Vinayak Narahari Bhave which was later changed to Vinoba by Mahatma Gandhi.
Vinoba was very influenced by his mother, Rukmini Devi, who was a religious woman. He had two brothers, Balkoba Bhave and Shivaji Bhave, who also remained unmarried and devoted their lives to social work, like him.
Early life and Education
At a very young age, Vinoba was very interested in Mathematics. Under the influence of his religious mother, he started studying the Bhagavad Gita also at a very age. At the age of ten the boy began his career of holy man: he made a resolution of lifelong celibacy, gave up sweets and started going barefoot.
Vinoba was well-read in the writings of Maharashtra's saints and philosophers at a young age and was attracted to the core of learning. To him, the routine course-work was not enough to quench his thirst for knowledge. His two years in the college remained full of internal uneasiness and agitation.
At 20, Bhave was shipped off to study at Mumbai, but went instead to Bengal. Apparently he joined the nationalist movement in Bengal, eating at public kitchens. Early in 1916, he put his school and college certificate in a fire on his way to Mumbai in March 1916 to appear for the intermediate examination. It was believed that Vinoba took the decision after reading a piece of writing in a newspaper written by Mahatma Gandhi. After he abandoned his high school studies to join Gandhi's teachings, he led a life of austerity and dedicated it to improving Indian village life.
Later he reached Varanasi (also called Kashi, then called Benaras). This decision was motivated by his longing to attain the imperishable and all pervading Brahma. He got into the study of ancient Sanskrit test.
One of the most learned men in India, he had studied Sanskrit, Persian, Urdu, Hindi, Marathi, Gujarati, Bengali, Telugu, Kanarese, Malayalam and English, and this array of languages serves him well on his travels through polyglot India. There was a rumour that he knew 17 languages.