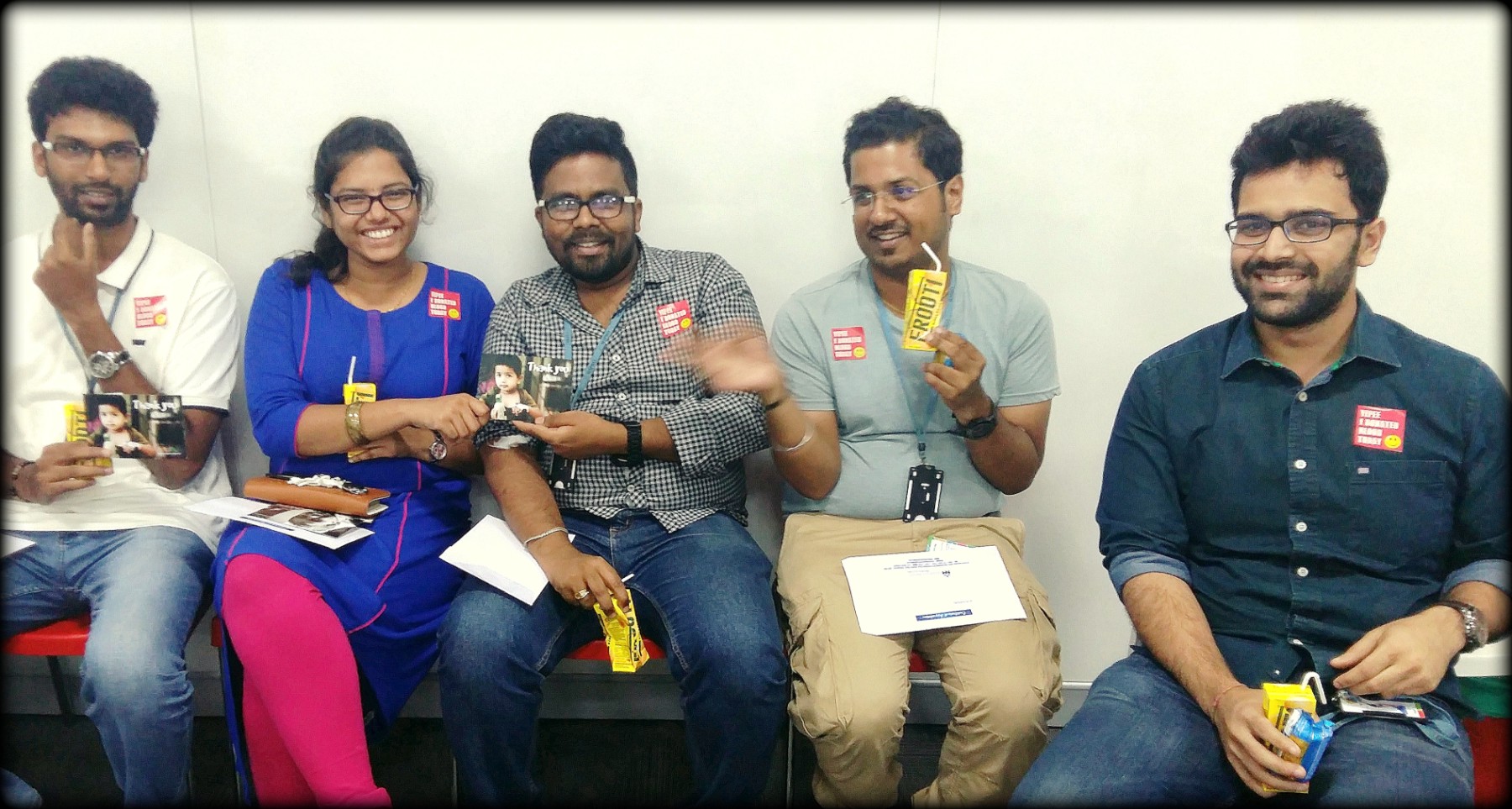 June 2017 was the a landmark month in Sankalp's quest to ensure that no one suffers due to shortage of blood. We had a whopping 27 camps with a total of 3546 willing donors and 2952 units of blood donated (at an average of nearly 100 units of blood collected each day), camps which happened during the summer shortage and the peak dengue period - the time of low blood donation camps and thereby severe shortage of blood in the city of Bangalore. Colleges, which contribute a significant portion of the blood units do not organise blood drives from April to June leading to shortage. Knowing the issue well in advance we invest in months of intense planning to ensure that blood supply to the city was maintained. This year has been a landmark as 22% of the blood units we collected in the whole of last year got collected in a single month. In one way we are quite lucky that world blood donors day falls in this period - on the 14th of June. That day in particular we had 3 huge blood donation drives involving 5 blood donation drives.
We would like to congratulate the donors and the corporate partners who participated in this mission to ensure safe blood off the shelf for each patient. Infact, we had 2 major organisations postponing their drives by a couple of months due to sudden internal issues. Should those drives also have been held, the number would have touched 3600+ units collected.
We believe in better distribution of blood
Our aim is to ensure more collection of voluntarily donated blood. However, we also believe that one blood bank in a day must not collect more than 150-180 units of blood. The aim is to find more quality compliant and transparent blood banks willing to do the right things and ensure distribution of blood across the blood banks.
Therefore in the month of June we involved 6 teams from across the city - including 2 government, 1 voluntary and 3 hospital based blood banks to collect the 2952 units
Happy Donors – Happy Us
This month we built a stronger bond with our voluntary blood donor heroes. Along with the blood donation drives, this month we also went hard on our stop replacement campaign. In most of the blood donation drives, Sankalp team members carried posters and stickers asking people to support the stop replacement campaign. At the post donation areas where people sit down to have snacks and refreshments, they were explained about the menace of replacements and asked to support the campaign by signing up on change,org. The response shown by the donors was phenomenal. Many donors were able to relate to incidents in their own lives when hospitals had forced them to organise for blood and they used to run helter skelter in search of blood donors. Many donors took out their phones and immediately scanned the QR code or logged on to the link and signed up supporting the petition. Some of them even took photos of the same and promised to propagate the message. Incidentally, in one of the drives a donor in the enthusiasm of getting more people to support the campaign took the poster away with him leaving the volunteers and people running the drive wondering what happened to the poster.
One of these drives was held in the blood bank where our Samraksha day care centre is run. Volunteers who donated blood also spent quality time with the kids who had come for transfusions on that day - playing with them, singing , dancing with them and spending time in storytelling. Such blood donor heroes prove that the spirit of voluntary blood donation can inspire one to do more.
Deferrals continue to be a concern
The gaping 17% blood donor deferral rate continues to be a matter of concern. Even as we summarise the 1500+ reports of donor deferral which we have collected over the last few quarters, it remains clear that there is a need for a clear and detailed guideline indicating who can donate and who cannot. Currently, the assessment of suitability of the donor to donate blood continues to be vague and in some scenarios even lacking sound basis of evidence. While Sankalp has tried to address the same in our camps, leading to donor deferral coming down from about 20% to 15%, the need for national guidelines is clear. The key issue that while the Drug Controller and National AIDS Control organisation continue to talk about conditions for deferral, they do not explicitly discuss the acceptance and deferral criteria for each condition. For example, while the guidelines mention diabetes, hypertension and alcohol intake, all three conditions which have very high incidence in society, they fail to address the details within these conditions. WHO had published "Blood donor selection: guidelines on assessing donor suitability for blood donation" and this is supposed to be the initial document for countries to start develop their own context specific guidelines. Unfortunately, there has been little progress from the central agencies adopt these guidelines as well as modify them as per local context. We were in for a rude shock when the much awaited update from the National Blood Transfusion Council on the issue turned out to be a lukewarm clarification of some of the condition rather than a comprehensive guidance document. In-fact we believe that our policy on deferrals, drafted in 2015 is a great reference on this topic, especially in the Indian context
Reducing inconvenience and injury to donors
Solving any problem starts with the admission of the existence of the problem and the 3-5% donors facing post donation complication is one such reality. As an organisation, we continue to face situations where potentially more could be done to reduce inconvenience to donors. The high attrition rates and the poor human resource management are problems preventing the Indian healthcare system from performing to its capacity. Thanks to the  same issues, limiting donor inconvenience has been an exceptional challenge.   We have worked closely with partner organisation to help them identify root cause and enable them to strengthen their strategy for prevention of complications. Nevertheless, the rate of control continues to be a challenge left to be addressed with June still witnessing 5% overall rate of complications.
This point has been brought up time and again. Blood banks must get well trained technicians and staff nurses for phlebotomy. One bad hematoma can cause serious mental damage to the donor. Some such donors in the fear and apprehension that they have developed an infection put in a note of complaint to their HRs. Mails with photographs of the site of phlebotomy are circulated internally causing panic. Sankalp has received atleast 2 major complaints in the month of June. Both the cases were duly investigated and the reason for the hematoma were nailed down. Wherever it was a problem associated with an untrained resource, it was taken up with respective authorities. Yet, significant efforts have been made to ensure that donors who face these complications do not feel discouraged to donate again in future. Therefore, each person who faces a complication is duly counseled and also given a handout listing the points to take care should they feel further discomfort. The brochure also gives our emergency contact number asking people to call back immediately if there is a situation which is bothering them. As per the rigorous protocol followed at Sankalp, the donors are reached out to on phone the next day to check if there were any further reasons to be concerned about. Only after the donor confirms that he/she has been doing well does our team feel satisfied.
Blood on shelves saves lives
Sankalp continues to strongly advocate that the good time to seek blood donors is not when there is a patient in need of blood inside a hospital. We continue to maintain that if the donors are approached in a proper manner, with safe environment to donate blood, with ease and convenience, we as a society are happy to contribute to save our brethren. We  do not take pride in rushing donors to hospitals on urgency this which could mildly be put as emotional blackmail. Rather, we prefer to toil in blood donation camps ensuring that adequate number of blood units are available off the shelf for any patient in need. Fewer emergency calls, fewer donors being rushed, fewer patient families having to go through breath-stopping moments are the reward that each voluntary blood donor, their organisations and Team Sankalp gets for ushering in the era of voluntary blood donation.