Rakta Kranti
Usually the first 2 months of a calendar year have sluggish numbers in terms of voluntary blood donation drives. Many organizations request for time to draw plans for the year, along teams for the same etc. In February Sankalp was able to organize not more than 6 blood donation drives in this period with 397 units of blood being collected in these drives.
JSS College Dharwad has been one institution where students, teachers and principal have always been supportive of the cause of voluntary blood donation. In the drive held on Feb 9 more than 200 students came forward to donate blood. Throughout the day the camp area was crowded with enthusiastic young lives wanting to make a difference. The team of volunteers did a great job in publicity. On day of camp they managed things beautifully well - Queue management, registration, certificate writing and post donation were all being taken care of by the energetic volunteers. In total 125 units of blood were collected with Cancer Hospital Hubli and District Hospital Dharwad being the beneficiary blood banks.
A similar sort of event was held at Azim Premji University, Bangalore on 13 February. Again the work put in by the volunteers for publicity was outstanding. They were present throughout the camp and were very helpful. They managed both registrations and post donation, even certificate writing for some time. They were instructed what to do and followed it. More than 225 donors flocked the camp and as many as 141 units of blood were collected by Victoria Hospital Blood Bank. 3 cheers to the young students at both these colleges. They are true flag bearers of the voluntary blood donation program.
Blood donation drives were also organized at Infosys BPO, National Instruments and Fiberlink software, 3 organizations that have constantly helped out by organizing regular blood donation drives. The drive at Infosys was planned on a wrong date and many donors could not participate. Yet 25 units were collected by Rashtrotthana Blood Bank on 12 February. National Instruments saw as usual 45+ donors turning up and 29 units were collected by ESI Blood bank on 26 February. In the drive at Fiberlink on 25 February 42 units were collected by Bowring Blood Bank. Sankalp wishes to thank the continuous support by all of them for the cause of voluntary blood donation.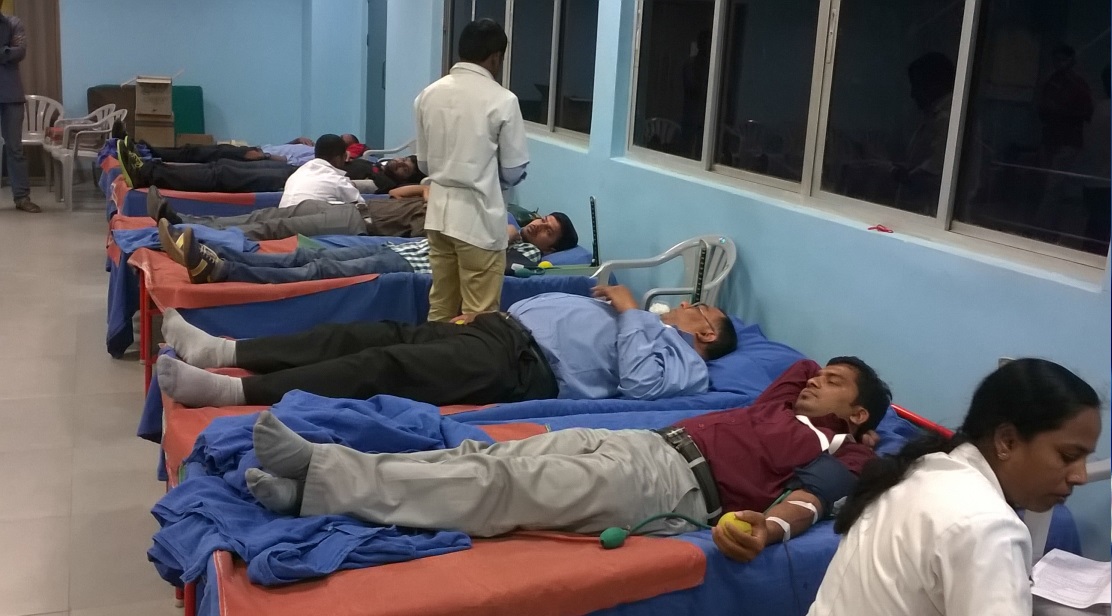 Sankalp also got connected to a new organization Li&Fung in February. A nationwide event was held in their office on 19 Feb for blood donation drives. Good publicity and motivation saw 35 units of blood being collected by Victoria Hospital.
As expected, the numbers were significantly higher in the month of march with as many as 16 camps yielding a total collection of 1106 units of blood. 1584 potential blood donors responded to calls for drives. The acceptance criteria was 69.82%. The numbers from March confirmed that a lack of consensus and proper knowledge of donor selection techniques. 29 adverse events were reported throughout the month.
Among educational institutions, there were 2 of them with whom Sankalp organized blood donation drives. A blood donation drive was organized with LVD college, Raichur on 2nd March 2015. Student volunteers from NSS spoke to their friends in all classes and motivated people to donate blood. More than 50 of them came in, however only 21 were found eligible to donate. The second educational institution was Bangalore University who supported the cause of voluntary blood donation with 5 drives and over 300 units of blood collected. Excellent ground work by a set of volunteers from law department, saw them go to all departments (48 in total) and educate their friends on the need and importance of voluntary blood donation. These volunteers also played a big part in ensuring the events went well during each drive. Victoria Hospital Blood bank was the beneficiary blood bank in all these drives. Sankalp would like to applaud the efforts of the administrators and volunteers at Bangalore University for having made these drives a grand success.
On the occasion of the birth anniversary of JRD Tata (3 March), Tata Consulting Engineering organised a blood donation at their Bangalore premises. This is an annual routine at TCE and it is for the 5th year running that Sankalp has organized the drive here. As usual 60+ donors came forward and 43 of them donated blood helping patients at Bowring & Lady Curzon Hosptial.
Folks at Qualcomm (25 March), Tata Elxsi (13 March), Education First (11 March) and Avaya(27 march) also donated blood in voluntary blood donation drives at their organisations. Excellent publicity through posters, mailers, brochures saw 399 units of blood being collected (190 at Qualcomm, 182 at Tata Elxsi, 45 at EF and 82 at Avaya) in these drives benefitting blood banks at NIMHANS, Bowring, Victoria and Narayana Hrudayalaya.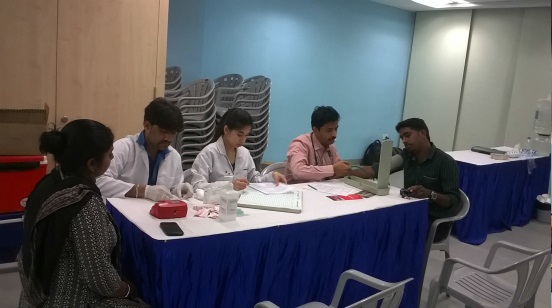 Blood donation drive at ITPB campus was due again in the month of March. Thanks to the support from Applied Materials and Ascendas, these drives were scheduled on 4th, 5th march 2015. Sufficient publicity through SMS, mailers and brochure distribution on the day meant that 275 donors came up to donate blood and 229 units were collected over 2 days. Narayana Hrudayalaya and Victoria Hospital Blood banks were invited to the drives.
Voluntary blood donors from Bangalore Ascenders group also donated in an inhouse blood donation drive at Jayadeva Hospital.
Sustained efforts in improving quality saw adverse reactions coming down to 2.9% in these drives. This is a small step forward in the direction of safer voluntary blood donations. The non compliance was at 1.54 per camp almost in line with what it has been for the last 6 years. The deferral percentage was as high as 31.2%. This is really high and perhaps points to something more than donors being un-eligible to donate. Hence Sankalp is working on creating a framework for donor selection criteria which can be used as a guideline for selecting and deferring donors in voluntary blood donation drives.