Last month we had 205 patient visits with 276 transfusions at Indira Gandhi Institute of Child Health. The average pre-transfusion hemoglobin was 8.3gm/dl and the estimated post transfusion hemoglobin was 12.1 gm/dl. At Samraksha we had 164 patient visits with 205 transfusions. The average pre-transfusion hemoglobin was 8.7gm/dl while the estimated post transfusion hemoglobin was 12.3 gm/dl.
The good news on Thalassemia management front was that the cardiac screening for all children was completed. Most children had their hearts checked up for the first time. Preventive action if taken on time goes a long way in ensuring health and well being. The screening for cardiac problems has been made a routine procedure and will be repeated every 6 months or as advised by the doctors.
HLA typing not just identifies families who have a matched sibling donor for their kid with transplant, they also bring in timely hope and opportunity for cure. We offered FREE HLA TYPING to 11 more families with the support of Cure2children, Italy in September. The results are keenly awaited.
Currently we are offering Hydroxyurea therapy to 23 children at our centers. We are already finding positive impact of Hu on multiple parameters. It is reducing the blood transfusion requirement, helping reduce the ferritin levels and also helping reduce the liver size. Though it is challenging to ensure that the drug is given in a well monitored environment, the medical team led by Dr Jolly Benjamin in consultation witth Dr Lawrence Faulkner are doing weekly followup and review at the patient's convenience making all of us including the parents very happy about the progress.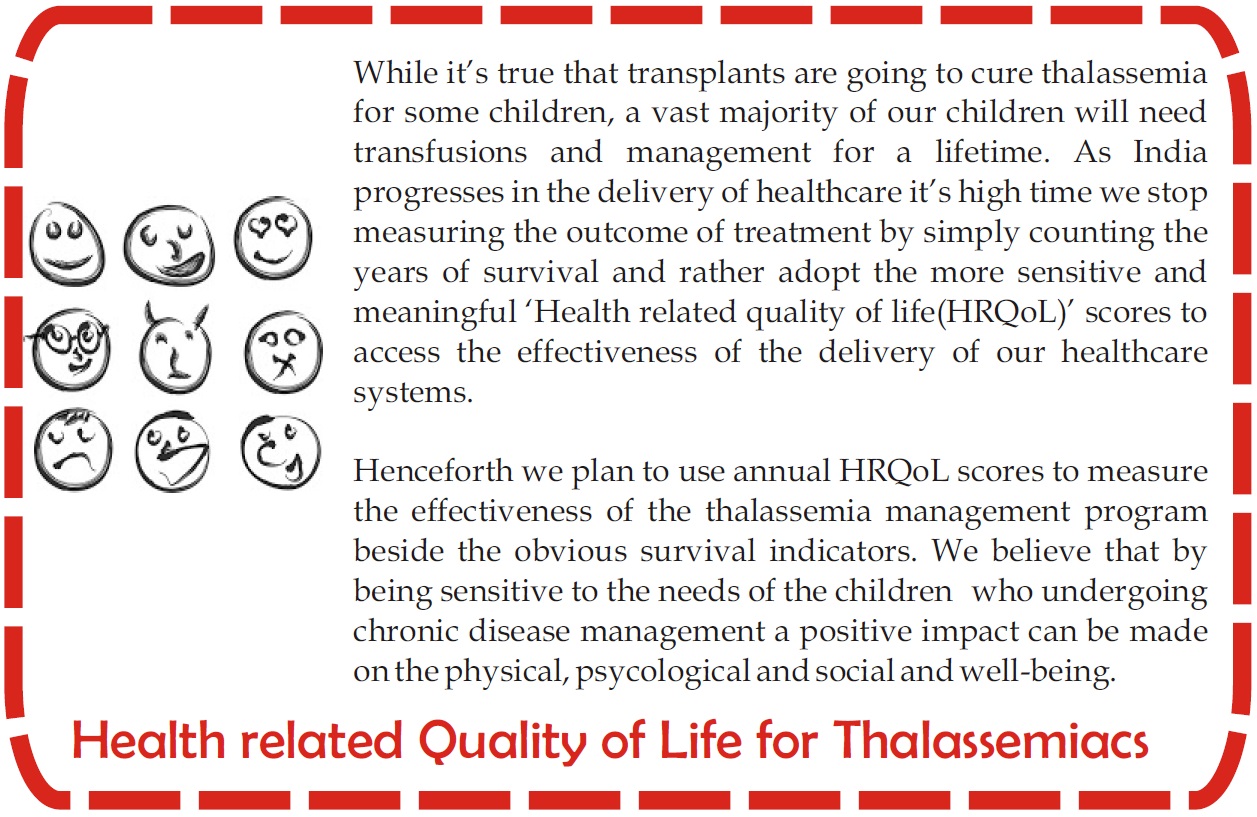 While we wait for the first transplant to start, the second child from our centers is being prepared for transplant. 2 more families wait in the queue. We are committed to ensuring that the patients irrespective of their financial background get access to the option of cure in centers where the transplants are done in a safe and reliable manner in-line with international protocols.
Endocrine screening has not taken off with the magnitude and intensity that we wanted. There are complex lab investigations involved, the cost of which is prohibitive for the parents. We are looking for ways to offer more lab investigations free of cost to the needy patients so that the financial limitations don't come in the way of proper treatment and management.