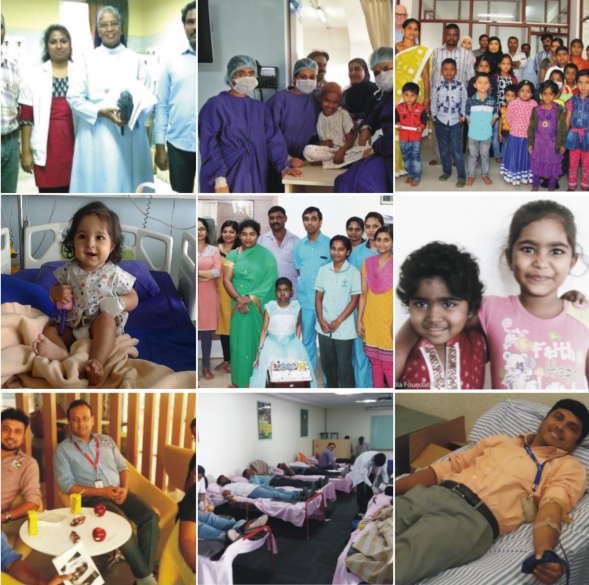 Time has flown by and we have entered the 15th year of operations. When we started off in 2003, little did we know what distance we would have walked. Sankalp has progressed from a truly voluntary organisation to something that today employs nearly a dozen people in powerful change making roles.
With the purpose of 'Giving Life A Better Chance' we wanted to fight the limitations in the current healthcare delivery mechanisms in the field of blood donation and thalassemia by building systems which promise to make the problems associated with these domains a thing of the past. It is indeed a matter of great honour to be counted as one among the select organisations in the country that specialize in blood donation services, emergency blood management, thalassemia and bone marrow transplants. With the growth numbers showing up year on year, we are on the right track to ensure that world class health care in the field of thalassemia and blood transfusion services will be available to the needy irrespective of their social and economic status.
Fusion of the best in governance, medicine, technology, innovation, human values, commitment and vision into teams with clear goals and objectives has allowed us to create an ecosystem which not only creates smart solutions, but also responds to the changing needs and challenges. This leads to continuous delivery of excellence and quality.
Greatest gratification comes from the fact that we have been able to setup teams where each member puts the goal at the centre and strives to achieve excellence. Whether it is putting the patient first in our thalassemia facilities or putting the donors first in our blood donation camps. Each rupee contributed to the organization is not only spent well and judiciously, the fact that we are able to amplify the impact it creates a reason for satisfaction.
While our 3 thalassemia day care centres were busy and bustling with nearly 750 registered patients coming for regular treatment, 32 children were taken through the process of BMT to be completely cured of the burden. Rakta Kranti added 13231 units of blood into the city through the 168 blood donation drives organised and as many as 92 emergency and rare group requests were served along with the nearly 6348 regular blood requests on the helpline. We had a new BMT centre in Ahmedabad also come up in the year. Through publications in international journals and paper presentations on a variety of topics both in India and abroad, our work was put before the scientific community and was well appreciated.
We thank all our financial contributors, blood donors, partner organisations, friends and well-wishers for all the support. We hope that 2017-18 will be even bigger and better!