R N Bhargava Inter College, Mussoorie is a school that is in zone 5 of the earthquake vulnerability map. It is also endangered by landslides and several other hazards.
Once we were sure that Sankalp is going to start working towards school safety, we started work immediately.
:-) As they say in Hindi - "
Loha garam hai Hathoda Maar Do"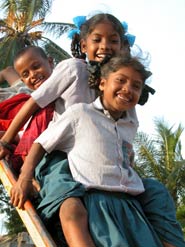 So we did. Started off with a school preparedness programme when we were infants.
We collaborated with the Government of Uttaranchal to give this School Safety Program to this school. We were only facilitators. We got the arrangements done and Disaster Mitigation & Management Centre, Dehradun delivered the programme to 72 individuals. Our first venture into making schools safe, the program was highly appreciated and well received. The results or lets say the benefits of the program were seen on the October 8th, 2005 when the children boldly faced the powerful earthquake.
Sadly, we have not been able to give the school safety document to the DMMC so far. Delay is regretted.