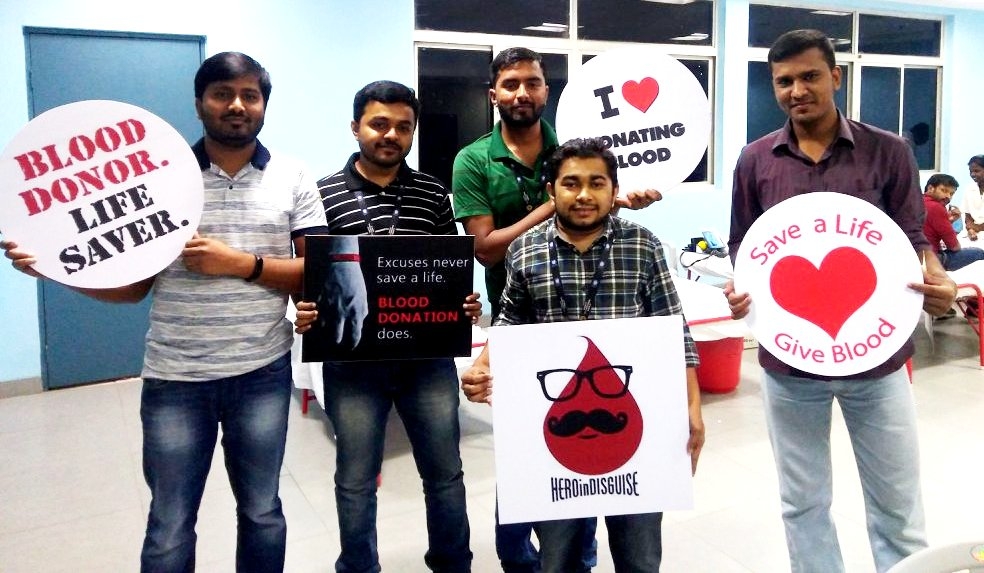 Sankalp India Foundation had organized a Blood Bank Meet at NIMHANS on 17th November, 2017. The meet aimed at improving the quality of voluntary blood donation drives within the city of Bangalore by fostering education and the exchange of ideas among professionals in this field. Sankalp has worked to improve the quality of voluntary blood donation, efficacy and proper utilization of blood products. The goals of the meeting were:
 to foster the exchange of ideas and information
 to advance and encourage high standards of performance of the blood banks
 to encourage the development through education, public information and research
 optimizing the process of blood donation, by using technology
 to plan for cooperation between blood banks at times critical period of shortage
Sankalp has always ensured that the donor complication is minimal after donating blood.  In this financial year, the rate of complications had reached 3.9% for 8536 units (until the month of October), which raises a very high concern. Reducing complications should be a primary goal for the Blood Bank. Strategies to combat this problem were discussed. Specific decisions were taken to improve the staffing pattern, especially involvement of trained technicians during the hours of peak load in the camp. Simultaneously, the rate of deferral has reached 16% for 8536 units (until the month of October), which is concerning again and clearly states that in many cases, donors were not deferred scientifically. The Deferral manual has been developed by Sankalp under the guidance of Dr. Sundar (Head-Transfusion Medicine, NIMHANS), which complies with all the standard protocol of NACO. It has been shared with all the participating Blood Banks for referral and deferring donors based on standard guideline.
Nearly 20%-25% calls received on Sankalp Blood Helpline are for replacement based donations. Requests are made for 2-5 units in several corporate hospitals across the city. Sankalp Team has visited at least 12-15 such replacement based blood banks, to ensure that they come to camps regularly.  However only 3 blood banks have committed to go ahead and help in phasing out replacement based donations, which is extremely disappointing. Blood Banks should look at the possibility of exchanging units rather than thriving on replacement. Calling voluntary donors to the blood banks should be an exception, not the norm.
Blood banks should be committed to come out for more drives especially during the critical period of summers and winters. Blood banks should also encourage organizers to avoid planning of camps on days of national importance to prevent overflow of stocks and schedule drives during lean season. Sankalp has also put forth the need for Blood Mobile at this peak critical hour. The Blood Mobile would ensure that there are 30 units collected every day.
Rakta Kranti aims at organizing efficient and well-organized blood donation drives with standards that are comparable to the best in the world. At the same time, with the years of experience, we have realized that there is a dire necessity of a digital infrastructure to manage blood donation. The Voluntary blood Donation Service faces some unique digital challenges across its vast range of services. We have removed the document style camp management interface and replaced it with a more adaptive and powerful technology platform - Teamred.in. Teamred.in helps in easy tracking of drives, has a highly transparent way of sharing feedback, updating staff details, analysis of reaction data, integrating all data across camps and blood banks at one place, making it accessible to all. Training will be provided to the blood banks for effective utilization of the technological platform.!!
Sankalp and the participating blood banks have agreed for scientific collaboration for publishing journals on the following aspects:
 Deferrals in outdoor voluntary blood donation drives
 Quality assessment of voluntary blood donation drives
 Follow-up publication on complications (Hazard prediction, comparing populations etc)
Increased recruitment of volunteer donors is critical for improving the appropriate and timely use of blood. Achieving safe and sustainable donor management should become a well defined practice.
Challenges continue to exist in the segment of voluntary blood donation, but having focused group discussions, innovative working arrangements, commitment, collaboration and capacity building among blood banks will enhance the quality and functionality of voluntary blood donation.