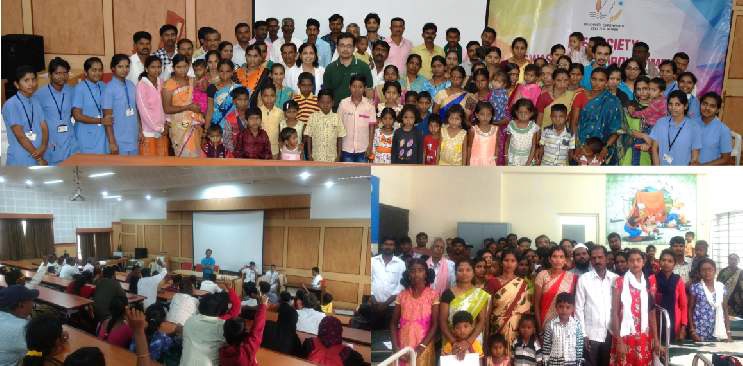 Thanks to the generous support from DKMS, HLA typing which usually costs a significant amount is made very affordable for several families in India. Through their support, Sankalp has been actively identifying candidates for BMT across the country. Over the last 3 months, nearly 500 HLA samples have been collected. Here is a snapshot of HLA typing events held at different places.
Indore & Ujjain
Sankalp, DKMS are working together with MY Hospital Indore in helping them make BMT affordable and accessible to plenty of patients. Several rounds of HLA typing in the past led to the identification of 40+ patients with a HLA match. The activity was taken to the next level with HLA camps organized in Indore in late September and Ujjain in February. Nearly 120 families were offered HLA typing.
Rajahmundry, Eluru and Vijaywada
HLA typing for identifying candidates for haplo identical transplants were done at Rajahmundry in September and again in December 2018. 50+ families who do not have a full HLA match were eager to understand their prospects of cure. 29 families who had never known about the chances of cure were also offered HLA typing at Eluru and Vidaywada. Most of these families were excited to understand that there is a hope of cure.
Ahmedabad, Rajkot, Surat and Junagadh
The Sankalp Pediatric Bone Marrow Transplant Unit at CIMS hospital Ahmedabad has been offering cure from thalassemia to several children from Gujarat. The team extended HLA typing to several cities within Gujarat to identify eligible candidates. Samples were collected for 100+ families across Ahmedabad, Rajkot, Surat and Junagadh areas in Gujarat between November 2018 January 2019

RDT - Ananthpur
Sankalp and RDT have been working together for management and cure from thalassemia. 10 children from RDT have already undergone transplant at our centre in PTH, Bangalore. While all sibling and patient HLA samples were collected in the past, samples for parents were collected to identify any potential HLA matches with parents from consanguineous families or for haplo identical transplant. 100+ families were offred HLA typing in December 2018.
Karnataka and Goa
HLA typing has been regularly done over the last 3 months in the existing Sankalp thalassemia day care centres in Karnataka at KLE Hospital, Belgaum, Wenlock Hospital, Mangalore, Project Samraksha and Indira Gandhi Institute Of Child Health, Bangalore. Close to 120 families have been covered in this process.
Beside this in Goa 30 families typed with the support of Thalassemia Society of Goa and Goa Medical Council. No child from there has ever gone to BMT and this is the first event.