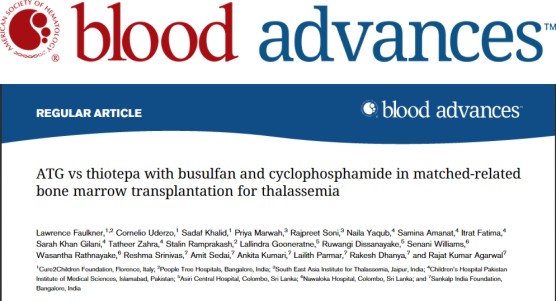 Thalassemia is an inherited genetic blood disorder that does not allow the production of normal healthy red cells. Bone marrow transplantation from a HLA-matched sibling donor can be a safe option for definitive cure but the chemotherapy used to get rid of the diseased marrow may cause infertility.
A recent study done in the Indian sub-continent and published in Blood Advances, the official online journal of the American Society of Haematology (ASH), shows that it is possible to achieve a high degree of success in bone marrow transplantation even if drug combinations that are more likely to preserve fertility are employed. This comes as great news for patients who may undergo bone marrow transplantation and increases hope for complete cure with good quality of life.
The study led by Dr Lawrence Faulkner, an Italian doctor who has dedicated his life to the cause of strengthening bone marrow transplantation in the developing world, designed and monitored the medical strategy for transplants done across 5 centres in South Asia namely South East Asia Institute for Thalassemia-Jaipur, Sankalp-People Tree Centre for Paediatric Bone Marrow Transplantation-Bangalore from India, Pakistan Institute of Medical Science- Islamabad from Pakistan, Central Asiri Hospitals-Colombo and Nawaloka Hospitals-Colombo from Sri Lanka between January 2009 and July 2016. Transplant outcomes were compared between two preparative drug combinations including either Thiotepa or ATG. The study showed that children transplanted using ATG did at least as well as those using Thiotepa - a significant step forward in reducing transplant-associated toxicities.
"The ultimate goal of transplantation in thalassemia is to cure the disease and restore a normal health-related quality of life and avoid infertility, the most relevant long-term problem associated with transplantation. The fact that we already have a few of the little girls who are going into spontaneous puberty after transplant is very encouraging even if it will take a few more years to assess this more rigorously." says Dr Lawrence Faulkner, the Medical coordinator of Cure2Children Foundation and the Program Director, Sankalp-People Tree Centre for Paediatric BMT, Bangalore.
 "This is good news in more than one ways. Not only is ATG fertility sparing, but it costs significantly less in comparison to Thiotepa. This study has long-term implications as it shows that curing children from thalassemia not only is becoming safer but also more accessible." – said Dr Stalin Ramprakash, Paediatric Hematologist Oncologist at Sankalp-People Tree Centre for Paediatric BMT, Bangalore.
"With more than 100,000 patients living with thalassemia in India and an additional 12,000 estimated to be born each year, the need to offer a reliable and widely accessible cure cannot be underestimated. Saving a child from a serious medical problem at the cost of compromising his/her fertility maybe hard to accept eventually. We are very happy that the team has been able to establish that the cure for thalassemia can be achieved with decreased long-term toxicities and return to a completely normal life ." - said Mr Lalith Parmar, President of Sankalp India Foundation, an organisation working for the care and cure of thalassemia.