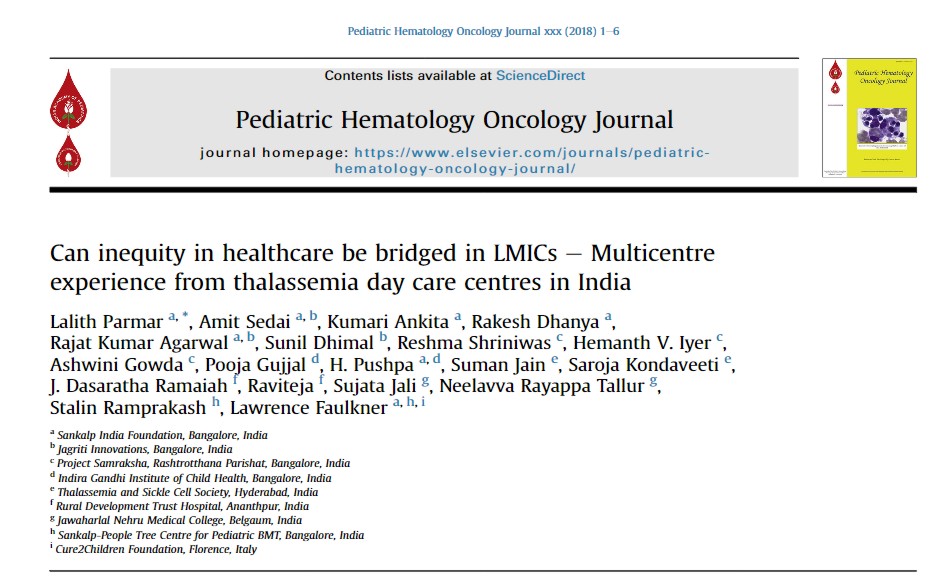 Bone marrow transplantation continues to be the only cure from thalassemia. However, there are several challenges including the high cost of treatment, the treatment associated complications and outcomes.  Sankalp-Cure2Children Network has done pathbreaking work in this direction to enable BMT for thalassemia patients with good outcomes, low toxicities, and yet at a lower cost to the society.
In our intent to share the knowledge acquired, recently we summarised and published our experience in the special edition on Thalassemia of the Pediatric Hematology Oncology Journal of the Pediatric Hematology Oncology Chapter of Indian Academy of Pediatrics titled "Low-cost matched sibling bone marrow transplant for standard-risk thalassemia in a limited-resource setting". This was the third paper accepted for publication in this edition from our team.
The paper concludes - "Our results suggest that it is possible to achieve good outcomes without significant long-term morbidity with simplified and cost-conscious BMT in children with thalassemia. We believe that patient selection purely based on medical eligibility criteria, emphasis on simple and well-proven infection control measures, judicious use of antibiotics, intensive use of information and communication, technology-assisted quality assurance, and close collaboration with thalassemia centers during down staging, pre- and post-transplant, as well as continued effective follow up support are critical components to the delivery of good outcomes with reduced overall costs."
Last year the Government of India made funds available selectively to only 4 centers for transplantation from thalassemia. In spite of 10000 kids being born each year and a huge population living with thalassemia, there were only about 60 transplants done from the available budget in premier institutes against the provision of funds for 100 transplants. In a presentation made at a conference organised by the Government of Karnataka in February 2018 in Bangalore it was shared that there was no mortality. Yet, the data on the overall cost of transplant to the patient, the disease free survival rates and complications rates is not available in public. Email and calls to the ministry and the ministry designated NGO representative have failed to provide any insight into this matter. In-spite of several centers clearly demonstrating good outcomes with low costs, gaps in the system continue to put the patients through avoidable suffering. The current paper is an example of how data from the centres could be reported scientifically and transparently.
The paper is open access and the full paper is available free of charge to download and share.
Sankalp-Cure2Children Network's guide for cure from thalassemia is available.