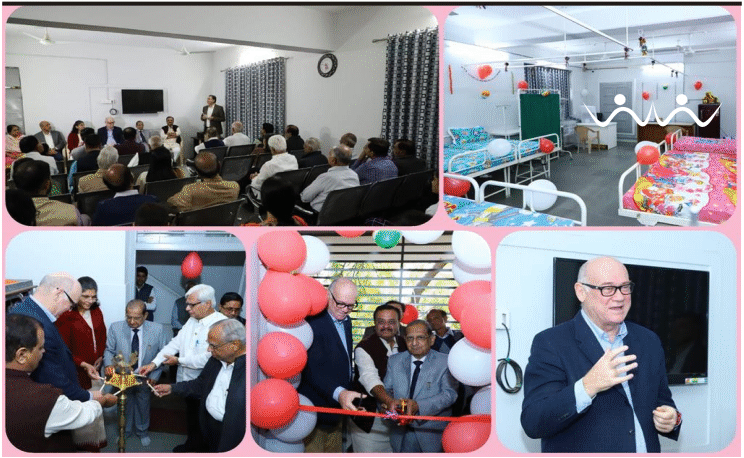 Ahmedabad Inauguration
26th January evokes patriotism from all Indians and is marked with several social and cultural events. For the team at Sankalp, patriotism is about honoring the promises we made - of building a country free of thalassemia and striving towards 100% voluntary blood donation. While at Bangalore we had a public blood donation drive at a shopping mall evoking a grand response, we are happy to share that another significant step in the direction of improvement of care for thalassemia has been taken with the extension clinical services at the thalassemia day care centre setup by Jalaram Abhyuday Sadbhavana Trust(JAST) at Ahmedabad.
Effective management of thalassemia for patients coming from diverse social backgrounds is sorely missing in our country. Most of the big cities often have facilities and teams to manage patients who can afford expensive therapies and treatment options but the ones coming from weaker financial and social backgrounds are left in a lurch. Over the years, Sankalp through it's many ventures in this domain has been able to prove that systematic care delivery for a chronic condition like thalassemia need not be dependent on the financial strength of the patient's family. Our own publication in the Pediatric Hematology Oncology Journal (PHOJ) proved that irrespective of genger, caste, economic or literacy background and distance from the centre, the quality of care extended to each child coming in for treatment can be uniform and be compliant to international guidelines. Sankalp is on a mission to root out the problems associated with thalassemia and has been actively looking at collaborations to setup care facilities for thalassemia.

Ahmedabad in Gujarat is a city well known for it's rapid strides in the direction of development, especially in the recent years. Yet, the state of several 100 patients suffering from thalassemia, especially from the weaker financial sections of society remains concerning. More than a year ago, JAST recognized this situation and started a facility to provide food, play facilities and resting areas for several little children and their families coming in for regular blood transfusion at nearby hospitals. Over time, the centre matured into a zone for counselling, bonding between families and a place where children just loved to come just before the blood transfusion would start. On a throughout review it seemed like even thorough review it seemed like even though a lot of non-clinical issues for the families were resolved with the establishment of this centre, clinically the children were not in great shape. That is when the team at JAST got in touch with Sankalp. Sankalp through it's BMT unit at CIMS Hospital had setup it's presence in Ahmedabad. The team at JAST were Aware of the clinical outcomes and were very open to Sankalp taking over the responsibility for clinical care of children. The seeds of a holistic care centre for systematic care and management of thalassemia were sowed. With rapid coordination over the past few weeks to empower and add manpower and resources and the guarantee of safe blood coming in from the giants of blood banking in Ahmedabad - Prathama Blood Centre and Sarvodaya Blood Bank(Supratech), the missing blocks to setup a full clinical care facility were brought in place.
At 10AM on 26th January 2019, Dr Lawarence Faulkner, Pediatric Hemato-Oncologist and the Medical Coordinator of Cure2Children, Italy and Sankalp India Foundation inaugurated the centre dedicating it to the several children in need of care. The event was attended by several well known figues at Ahmedabad - Mr Nitin Shah, Dr Deepa Trivedi, Pediatric HematoOncologist and BMT Program Director at the Sankalp CIMS Pediatric BMT Unit, heads of Prathama Blood Centre and Supratech and all the honorary trustees, friends and members of JAST. We feel humbled at the love and admiration shown by the people from different walks of society who all contributed in their very small but important manner in the setup of this facility.
Dr Lawrence & Dr Deepa expressed happiness that many more children would get access to better management and eventually bring them in line for cure through BMT. Lalith Parmar, President, Sankalp India Foundation reiterated that Sankalp would build atleast 20 day cares all over the country. He also challenged whole team that the path is not easy and that should we work hard and do well, within a year there would be 400+ children at the centre. The JAST team was represented by Mr Rajiv Ravani, who is a trustee. He expressed immense satisfaction at building such a centre and echoed the notes of Mr Lalith and committed that JAST would take the ownership of driving the entire team to do the best for the children.
With 4 centres in Karnataka, 2 each in Maharashtra, AP, Gujarat and 1 in Rajasthan, Sankalp is now actively collaborating clinical care in 11 day care centres across the country.
Collaborations with Nellore, Rajamundry, Eluru and Vijayawada
bmt
In the last week of December 2018, the thalassemia management team of Sankalp toured coastal AP to explore possible collaborations in setting up systematic care facilities for thalassemia. While the team has been working with several individuals in Rajamundry to offer HLA typing, free consultation and BMT for children from the region, the possibilities of a day care were also explored.
At Nellore, the collaboration with Indian Red Cross Society finally materialized into a thalassemia day care facility being inaugurated on 28th December 2018. The team at Nellore, headed by Dr A V Subramanyam, the honorary chairman of IRCS and ably supported by Dr Yashvardhan, the blood bank medical officer worked overtime to secure necessary permissions from regulatory authorities and also get a 5 bedded facility in place in the premises of their blood bank. IRCS blood bank being one of the most sought after places for blood, there are several thalassemics who take blood from here. These families are being counseled and in the last one month 10 children have already been registered and transfusions have been started off. With collaboration for labs, chelation almost in place, the centre is at the cusp of taking full fight shortly.
IRCS Eluru and Mamata Foundation, Vijaywada have also joined hands with Sankalp. IRCS represented by Dr Prasad, a leading figure known for initiating several social projects and Mamata Foundation represented by Dr Sridevi were present in a HLA typing event organized on 24th December at Eluru. HLA typing was offered to 29 fanilies. The doctors also expressed keen intention to collaborate with Sankalp. With ThalCare, the technology assisted tool for managing thalassemia, already being rolled out at their centres, the staff there are in the process of identifying the right patients and other resources for blood etc. By the month of April, MOUs with both organizations would be signed off to formally establish the collaboration leading into a complete thalassemia day care facility.
Partnerships with Samarpan (Sarvoday Hospital), Mumbai and Sankalp Rajkot
The collaborations with Samarpan Trust (Sarvodaya Hospitals), Mumbai and Sankalp Rajkot to streamline thalassemia management locally is also beginning to bear fruit. Over the last 2 months, intense focus on transfusions, investigations and regular review by hematologists have helped fix some basic problems. With attention now shifting towards enabling regular la investigations and starting chelation therapy for all eligible candidates, the centre maturity is improving rapidly.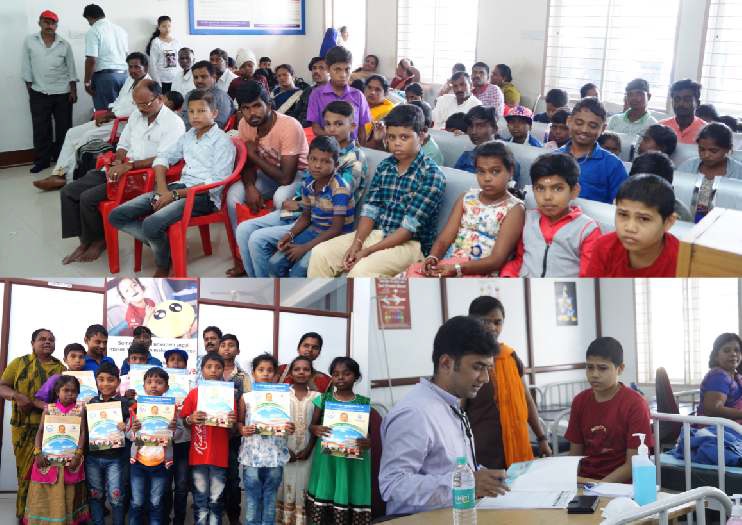 As kids with thalassemia progress into adulthood, cardiac complications pose a major threat. Early detection and aggressive management are the two key strategies. With this focus a cardiac screening event was organised at the thalassemia day care centre at Samraksha, Rashtrothana Parishat in Bangalore on 17-November-2018 with support from Jayadeva Institute of Cardiology. 105 patients participated in the program. Echocardiogram was done and Dr Bharat, the Pediatric Cardiology from Jayadeva reviewed all the reports. Thanks to Team Jayadeva, we are able to take the quality of care for patients with thalassemia.