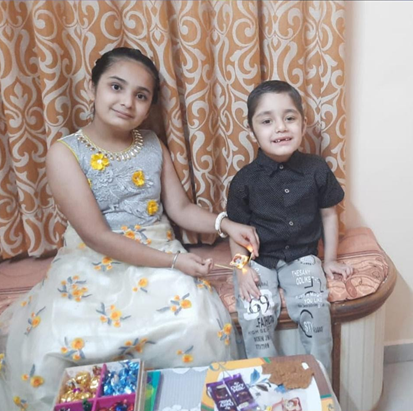 Raksha Bandhan is a day for brothers and sisters to reaffirm their bonds of affection. Sisters tie a band on the wrist of their brothers. Brothers, in turn, give their sisters gifts. The festival of Rakhi signifies the love, protection, loyalty; care, and commitment a brother and sister have for each other.
This year at our BMT centre in Ahmedabad, we have celebrated Rakhi with our little life-savior sisters who donated Bone Marrow to their brothers and gave their brothers a transfusion-free life.
Rudra and Ragini are twin brothers and sisters. Rudra was diagnosed with thalassemia at 5 months of age and blood transfusion had become part of his life since then. His sister Ragini was probably to save him as she was the one who was a matching donor in the family and the one who could save Rudra from all the misery that he was going through every day. Today, after BMT, when Rudra and Ragini are celebrating their first Rakshabandhan, Rudra is thanking his sister with his whole heart. Ragini is also praying for her brother's healthy life. Here it is just not the brother who promises to protect sister but it's a mutual promise between being a warrior for each other when time shows up. Sankalp wishes them a very happy Rakshabandhan.
One more sister standing up to save her brother's life is Harman, who is an elder sister of Seerat Soni who was suffering from thalassemia major. Harman is a very dear and lovable sister to Seerat. She has always taken care of Harman like a mother. She was with Seerat in the BMT unit and donated marrow for him. While in the BMT unit, she spent time studying and also taking care of her little brother. Even the discharge, she wanted to be with her brother and was not keen on going back home. On the auspicious day of Rakshabandhan, she has promised her brother to stand by him for a lifetime. Sankalp prays that this bondage must be everlasting and the little one grows up to protect the sister similarly.