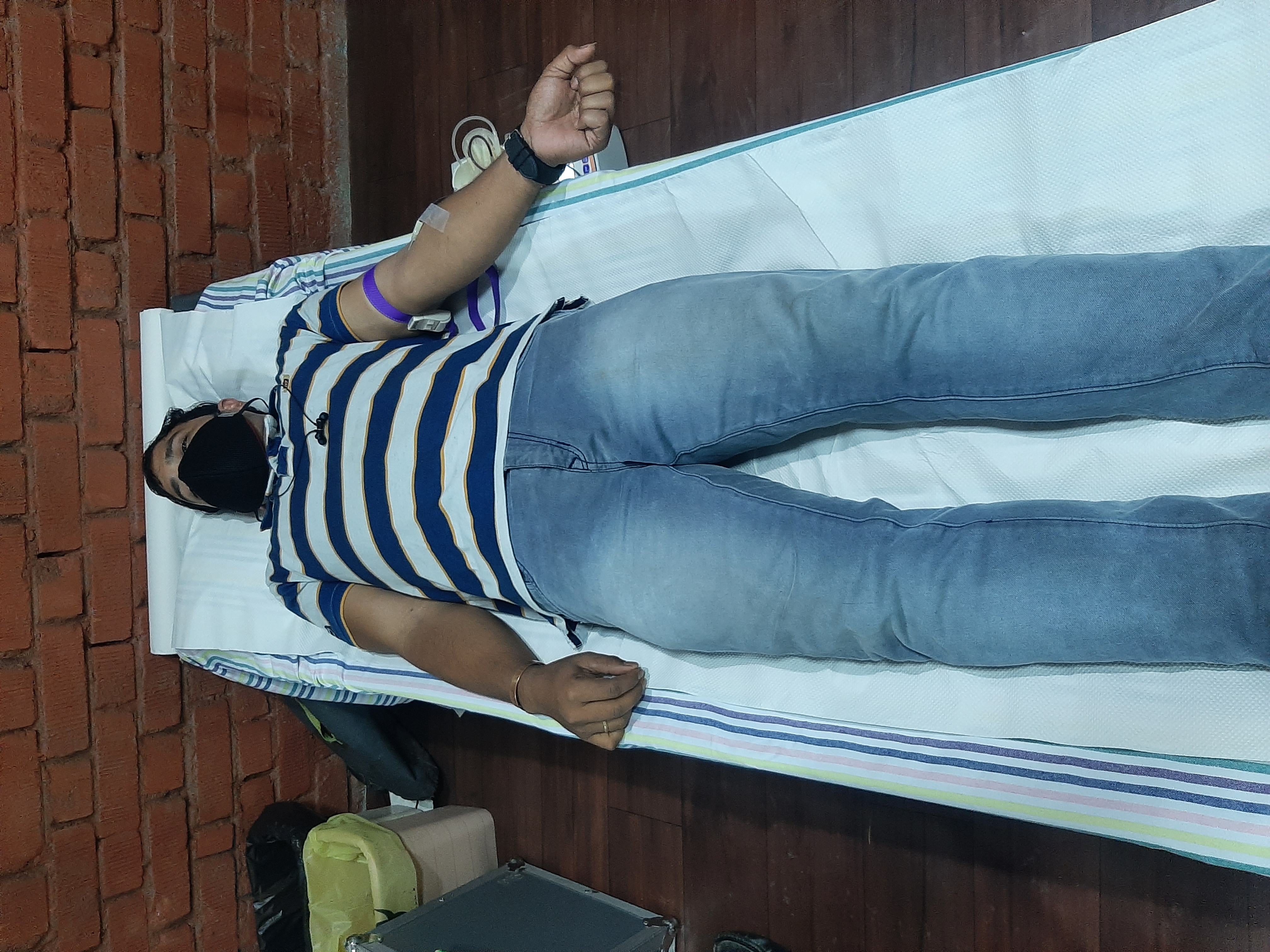 Since the onset of the pandemic, there is a tremendous strain on healthcare including blood transfusion services. Patients suffering from chronic blood disorders like Thalassemia, cancers, pregnant women during childbirth etc. require blood transfusion. But, as the pandemic continues and dengue hits, the struggle for getting access to safe blood has become worse. People are being forced to bring in replacement donors which is causing severe stress to families.
Colleges and corporates, being the biggest contributors to voluntary blood donation, were closed. We therefore had to explore new avenues for camps. Owing to the current situation, small public camps are the need of the hour. August started with one such camp at VRR Nest Apartments, Electronic City where 19 heroes came forward to donate blood and 14 were found eligible to do so. 
Independence Day gave a big boost to the initiative and we were able to plan 3 camps during that weekend. Camp at VCET, Malleshpalya on 14th Aug saw great participation from motivated volunteers. Volunteers from VCET and Healing Touch went around the area with banners in hand to inspire people to donate blood. 17 units of blood were collected in the event, all thanks to their efforts. 
On August 15, we had camps at Vega City Mall and Wisdom International School, Langford Road. A small flag hoisting program was planned at school and we were able to interact with a group of around 10 young volunteers who participated in the event. 5 from the group came forward to donate, out of which 2 got deferred. A total of 18 units were collected in the camp. At Vega City camp, 20 units were collected, mostly from the mall staff. Though the mall had a good footfall, we realized that the general public is still skeptical about donating blood. 
Starting mid-June this year, we were approaching corporators of all the 198 Wards in Bangalore. This is a part of our new initiative to do more public camps to meet the demand for blood. Constant follow ups bore fruit and we organized a camp at Kempapura Agrahara ward on the occasion of Corporator's birthday on 17th August. The camp was planned in a blood mobile vehicle. 18 units of blood were collected in this event. Camp saw participation from a lot of youth with many people donating blood for the first time. Such was the enthusiasm amongst young volunteers that some 4-5 17-year-olds wanted to donate! They were asked to donate next year once they become eligible. 
Two more apartment camps were organized on Aug 21 and 29. 21st August camp at Mahaveer Kings' Place apartment, Kadugodi saw participation from 19 people, 15 of whom donated blood. On 29th August camp at JR Greenwich, Sarjapur, 29 people participated and 22 donated blood. It was great to see a father donating along with his 18-year-old son to donate for the first time at Mahaveer Kings' Place and a father-daughter duo, daughter being 21, donating together at JR Greenwich.
August ended with a public camp organized at Shalom Church on Sunday, 29th. Camp started and ended with a prayer and blessings from the pastor. Many first-time donors participated in this camp. Volunteers were available throughout the camp and helped people fill forms and handed over refreshments. Church had made announcements about the camp during it's Sunday mass on 22nd as well as on camp day. This ensured good motivation amongst church members and good turnout in camp. 33 people participated in the camp, 18 first time donors, while only 21 could donate blood. People got deferred mainly due to low hb levels and COVID vaccination.