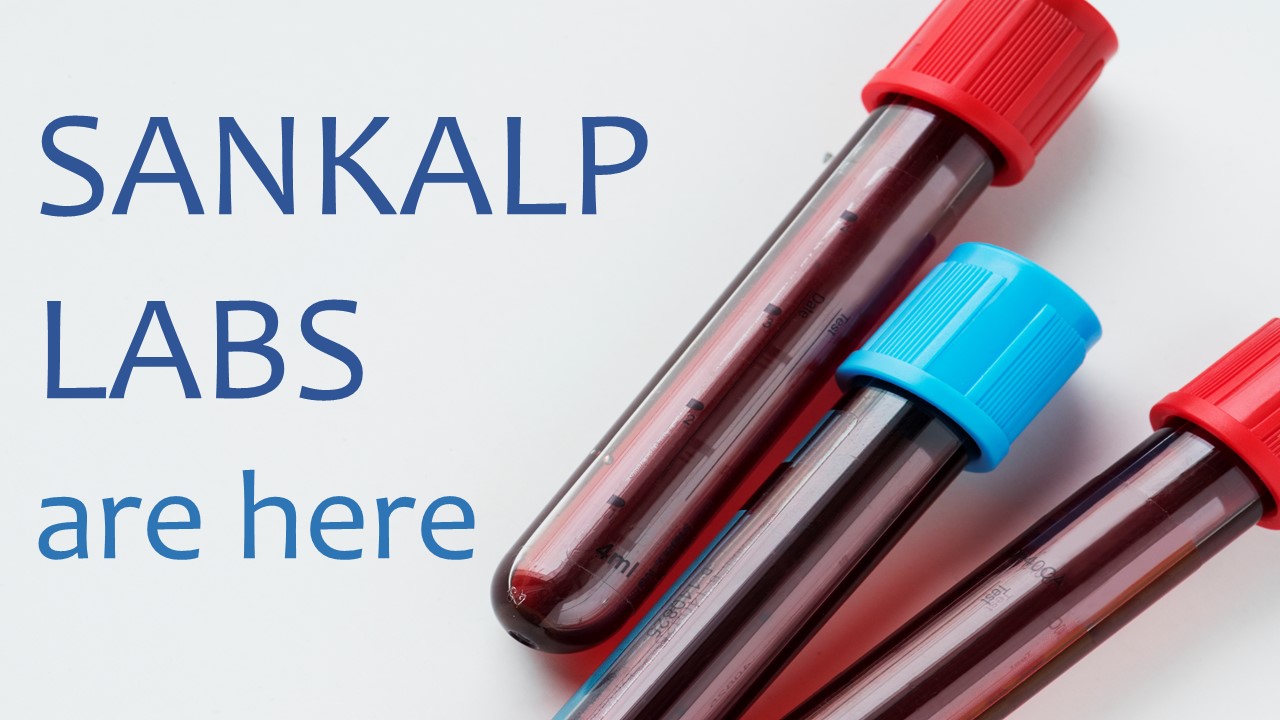 There are an estimated 110,000 medical labs in India. Just under one percent of these are even accredited. In places like Bangalore, the concentration of such services is much higher than the national average. And yet, today, Sankalp starts its medical and research labs - the "SANKALP LABS". The quality, speed, reliability, and access that the organization seeks necessitated the setup of our own labs. A big opportunity and a big responsibility get added to Sankalp today.

In pursuit of the highest standards of quality, the lab intends to blend state-of-the-art diagnostics technology with powerful knowledge management platforms. The lab has the responsibility of providing quality-driven reliable, timely and accessible services, endeavouring to enhance the utility of each report for each individual. At the same time, the lab intends to be the cradle for innovation and research. Beyond supporting the treatment needs, this lab will aim at excelling in preventive and curative diagnostics.

The lab will be housed within the BMJH-SANKALP Centre for Paediatric Hematology Oncology & BMT that is being set up at the Bhagwan Mahaveer Jain Hospitals, Bangalore.

The pathology lab which starts today will have
advanced blood cell counter,
hemoglobin testing for thalassemia and diabetes,
fully automated analyzer for clinical chemistries,
coagulation studies,
electrolytes,
urine analysis and also
fully automated immunoassay analyzer covering a large range of drug monitoring, iron levels, and hormones monitoring.

We will also be starting the molecular lab in a few days which will have:
Automated DNA/RNA extraction
Polymerase chain reaction (PCR)
Real-Time PCR for viral studies and disease diagnosis
Sequencer for chimerism studies and for diagnosis.

Bringing strength to the lab is Dr. Sundar Periyavan who has agreed to take the position of the director of Sankalp labs. Sir has been part of the organization's advisory board for several years and has recently completed his illustrious tenure as the Professor and Head of Immuno-haematology and Therapeutic Apheresis at NIMHANS, Bangalore.

The lab will be providing services to all the projects and centers across the country. With the lab in place, with the same limited resources, we will be able to ensure better compliance for medical investigation for a larger number of children. We will be able to ensure that pregnant women get screened reliably. Our transplant program will be further strengthened.  Very soon the molecular laboratory of the organization will start operations.  When enough hard work and determination has been put in, someday, not long from now, the lab aims at being the reference lab in the field of hematology-oncology.

Exciting times await the team. The whispers in the corridors, while cups of tea are getting sipped and
How we can extract more useful information from the data that these machines throw up?
How soon can we apply machine learning algorithms to enhance reporting?
Can we find and report patterns never seen before?
Can we seek and secure accreditation as soon as the minimum time of operation to seek such accreditation is over?
How soon can we start accepting challenges from clinical and administrative teams?

The excitement is part of the anticipation - of meaningfully contributing to the shared vision - of giving life a better chance!


The wish that fructifies today only with the very kind support of DKMS, Germany, Amit Iyer Memorial Foundation, Mumbai and Didwania (Ratanlal) Charitable Trust, Mumbai. A BIG THANKS for the firm trust that they continue to place in the Sankalp family.

While you read this, do take a glance at the journey you have walked along with Sankalp all these years. Think of the ways in which you participated and contributed. Three cheers to all of us, for having made Sankalp possible - in our very own special ways! And then - roll up your sleeves and find your own ways - to keep walking - together - further!

Robert Frost in his timeless classic "Stopping by Woods on a Snowy Evening" says:

The woods are lovely, dark and deep,
But I have promises to keep,  
And miles to go before I sleep,
And miles to go before I sleep.

Vajpayee Ji too reminded us through his classic "आओ फिर से दिया जलाएं"

हम पड़ाव को समझे मंजिल,
लक्ष्य हुआ आंखों से ओझल,
वर्तमान के मोहजाल में आने वाला कल न भुलाएं।
आओ फिर से दिया जलाएं।

Long Live Revolution! May the Inquilab that we seek to bring always remain Zindabad!

Vande Mataram!