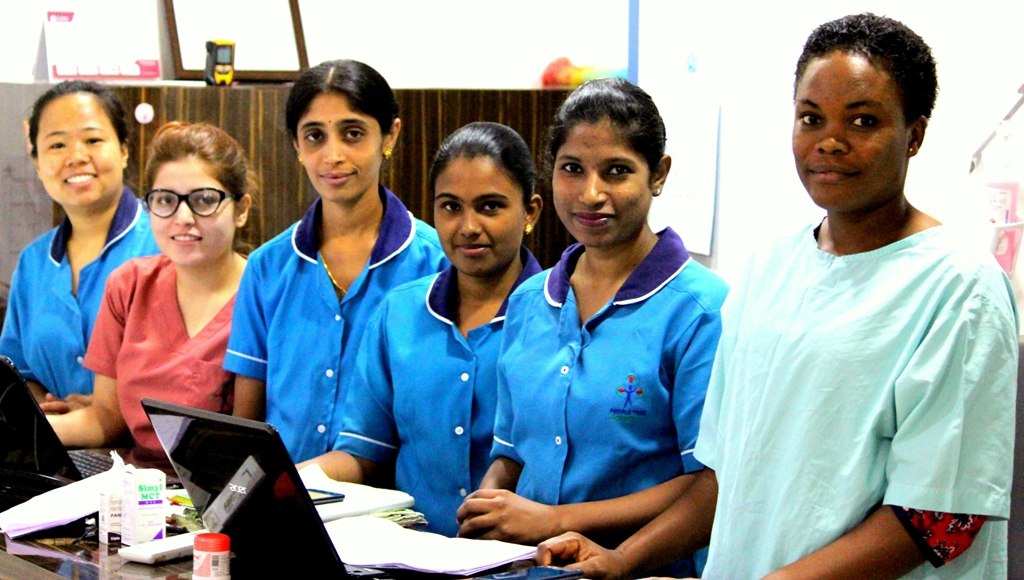 Sankalp-People Tree Centre for Pediatric BMT is happy to enable Ms Elizabeth Arku from BMT Ghana to receive 20 days of intense training. BMT Ghana is planning to setup what is probably going to be the very first BMT centre in Sub-Saharan Africa later in 2018.
Within the short duration of time that she had, Ms Arku was very keen to learn and worked hard. The head nurses of our unit spared their precious time to give her due attention and guidance. Ms Arku noted that "the experienced doctors, nurses and other health personnels involved in the delivery health care to patients at the BMTU all work in unity to achieve one positive goal. I have gotten to know that the more I practice, the more I learn the more I become experienced in this particular field." Towards the end of the training period she felt that it would have been better if she had more time, and yet she considered her training program a successful one. More importantly, she built professional and personal relationship with her colleagues in Bangalore and knows that she could connect to them whenever needed in future.
Ms Arku's visit set into motion a series of actions which are paving the way for a structured training program for nurses in pediatric hematology oncology. There is a wide gap between the skill set of the new recruits and the needs of bone marrow transplantation which this training will seek to bridge. All nurses who will join the program and those who come to our centre for training will go through this training process.
Already nurses from MY Hospital Indore are at Ahmedabad and Bangalore benefitting from the new training program. So far, it seems like we have been able to put together a program which is contextually suited and immediately impactful in skill building nursing teams. Sandeep, the Nursing coordinator of Sankalp is working together with Association of Pediatric Hematology/Oncology Nurses(APHON) from USA to strengthen this program and make it world class. In two years we aim at having a formal training program in this direction, which would hopefully strengthen delivery of care in Pediatric Hematology/Oncology for several parts of developing and under-developed world.