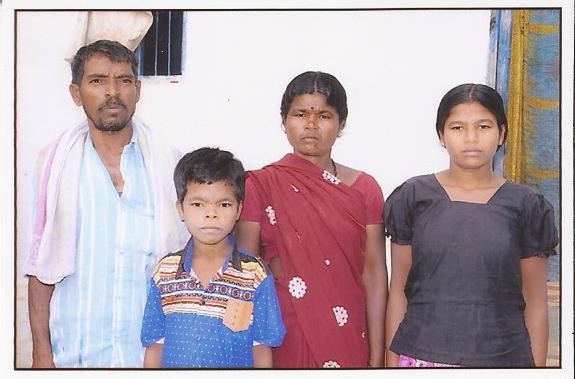 This is a story of a family who are extremely poor and who are also categorised as backwards, they are also treated very low in the society which they live. Pulappa and Muthyalamma were married to each other and from their marriage they had three children among them Chinna Pedanna is the youngest. Pulappa is a physically challenged due to his condition he couldn't work anywhere, Muthyalamma had to take responsibility of the entire family and also she became the only earning member of family. She is a wood picker, the family lives in a small village of Ananthpur district. Despite the poor condition Muthyalamma managed to take care of her family well.
After 4 months of Chinna Pedanna born, he turned up showing bad health. Family took him to hospital nearby. The blood samples were drawn to know his condition and reports showed that his blood counts were very low. He was transfused immediately and two days later again there was a fall in his counts. Doctors screened the family for Thalassemia and the reports later confirmed that he was a Thalassemic. He got transfused in the local hospital for sometime and then started receiving transfusions at the Rural Development Trust Hospital in Bathalapalli - Anathpur, a centre providing good care for thalassemia. The family just knew that there was something wrong with him and he is getting treated for that apart from this they couldn't understand anything about the disorder.

Few years later trust people counselled the family and also offered HLA typing test.It wasn't easy at all to convince them for the investigation but the efforts of team who counselled them did not go waste. Few months later the test reports revealed that he has a fully matched donor; it was Muthyalamma his second sibling. The team at RDT again counselled the family and explained the risk benefits of Bone Marrow Transplant. The family still found it difficult to understand things but they were just aware that whatever it is, it's going to be very expensive and they would never be able to afford it. The medical team at RDT understood the situation well and decided to help the family together with Sankalp India Foundation. Through regular meeting with medical team of Sankalp he was down staged exceptionally well - a process which reduces the risks associated with the procedure. Intense downstaging was needed because he had a large spleen and liver size which increase the chances of transplant failure. RDT and team Sankalp agreed to cover the cost of transplant.
He was referred to the transplant centre at Bangalore. Beside the liver and spleen he was also 16 years old and hence a candidate with relatively higher risk. The transplant wasn't expected to be straight forward but the medical team took it as a challenge and admitted him. Eventually, the transplant went well in part because the team meticulously planned to mitigate any problems that were anticipated as a consequence of his condition. Fortunately, he did not get any kind of life threatening infections also. He engrafted soon and was discharged earlier than usual.
The transplant was particularly challenging because of the severe communication difficulties complicated further by illiteracy. With a lot of patience the nursing team found a way to communicate and the mother started taking care of the child well. Coming from a very different environment, getting the family to get used to the hygiene conscious setup of the bone marrow transplant unit.
As the transplant came successfully without any complications, the family was very happy and grateful. When they visited RDT Hospital, the team there was also overjoyed.