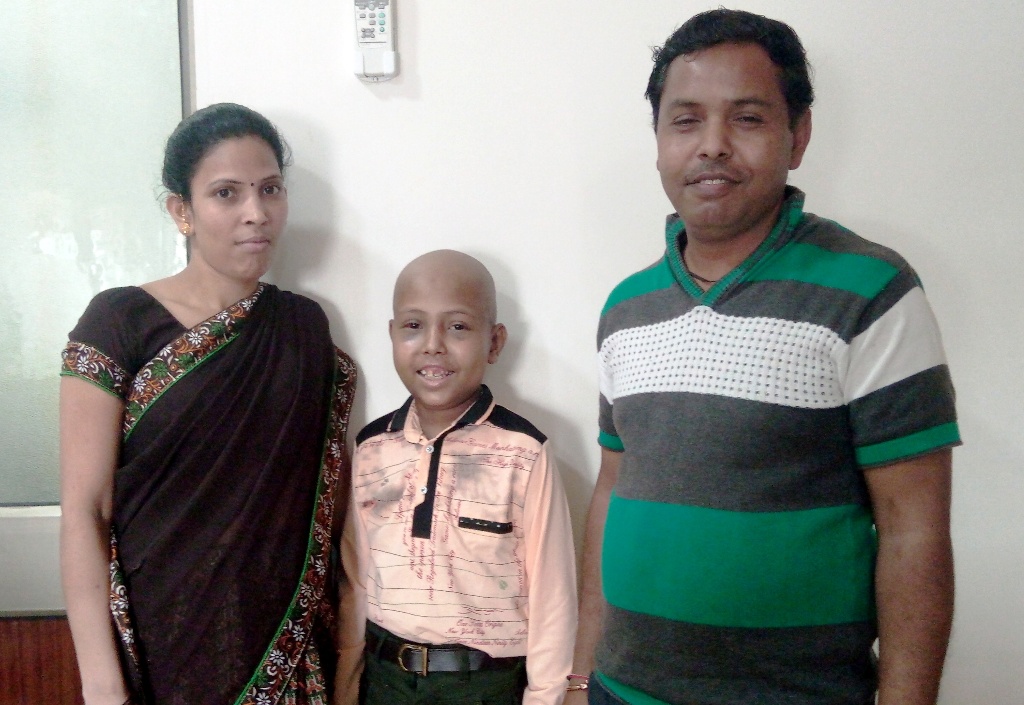 Sunil and Kavita both were from Madhya Pradesh. Sunil was from a small village called Nimach and Kavita was from Ratlam. As both hailed from the same community, they got married as per tradition. Both of them weren't very highly educated and had merely completed primary school. Sunil was a running tea shop and that was the only source of income for the newly-weds. However, basic livelihood wasn't affected as they stayed part of a joint family with parents and an older brother who had his spouse and 2 children. Within 3 years of the wedding, the couple were parents to 2 beautiful children. The first one was a daughter named Khushi and the second was a boy named Himanshu. Life seemed to be going great. However, 4 months after Himanshu was born, something seemed wrong. He started growing pale and weak. Even the partially educated parents realized that his growth seemed abnormal. On consulting a local doctor, they were told that it maybe weakness and blood transfusion was advised. After transfusion Himanshu seemed well. Weeks later, the situation showed up once again. This time around the doctor advised them to go for a screening for thalassemia. The report came back indicating that the child was a thalassemia major.
The community and immediate family members were not of great help either. When they realized that the boy needs regular blood transfusions, medicines and frequent investigations many members in the family advised Sunil to stop caring for Himanshu and plan for another healthy child. Sunil and Kavita were not ready to part with Himanshu. They were prepared for the fight ahead. Overtime, the other members of the family also changed their stand and provided support to Sunil and Kavita in their battle to manage thalassemia. The local doctor explained aspects of cure through Bone Marrow Transplant as well and mentioned about HLA typing being the first step in that direction. However, the cost of HLA typing seemed much beyond their reach.
5 years later Sunil learnt about a free HLA typing camp at Udaipur, Rajasthan. He was told that Himanshu being 5 is at the appropriate age to undergo BMT. With a lot of hope, the family went ahead for HLA typing. Unfortunately, Himanshu and Khushi did not have a full HLA match. Everyone in the household were disappointed. Sunil sought advice from people in the medical community and was informed that he has a chance if there is another child. 2 years later the couple planned for another child. Months later, Kayra was born. Kayra was a joy in the household right from birth. 2 more years later, she proved to be the lucky mascot for Himanshu as well. In another free HLA typing camp conducted at Jaipur, it was learnt that Kayra and Himanshu had a full HLA match.
The next challenge was to organize for the finances required for the transplant. Sunil was sure that costs in the range of 10-12 lakhs was much beyond his capability – even if he sought help from friends and family. It was then that Sunil learnt about the Sankalp BMT program at CIMS Ahmedabad. On being told that it was a not for profit program run by Sankalp India Foundation and that families are to organize for only a portion of the finances, there seemed some hope. Sunil decided to give it a try and got Himanshu to Ahmedabad and met the team there. While the coordinator did a Socio Economic Survey and Analysis for the family and assured extended financial support for the treatment of Himanshu, the clinical team went through Himanshu's details and opined that he could be ready for transplant from Kayra after an intense period of downstaging.
Himanshu had a very high serum ferritin level, had an enlarged spleen and liver, all of which needed to be corrected rapidly. About 6-7 months later, when he was clinically ready for transplant, there was another challenge. Kayra being much younger to Himanshu wasn't fully prepared to donate an enough amount marrow. She herself being a thalassemia minor, needed more time. Her hb levels required work to be done. After some more time, when she was nearly there, the clinical team worked on some alternate techniques to retrieve enough marrow and yet keep Kayra fully healthy. Himanshu was then admitted for transplant. Himanhsu's transplant was intense for the entire clinical team. He developed a few complications and for sometime underwent a lot of trouble. Himanshu and his parents however, were strong and complied with all instructions given by the team. Eventually, his complications resolved and he started engrafting. For the family it seemed like a long struggle was over.
Himanshu is now back in Neemach – enjoying his time with his family and slowly getting back to normalcy. It is a matter of joy for us at Sankalp, to see another child being cured.