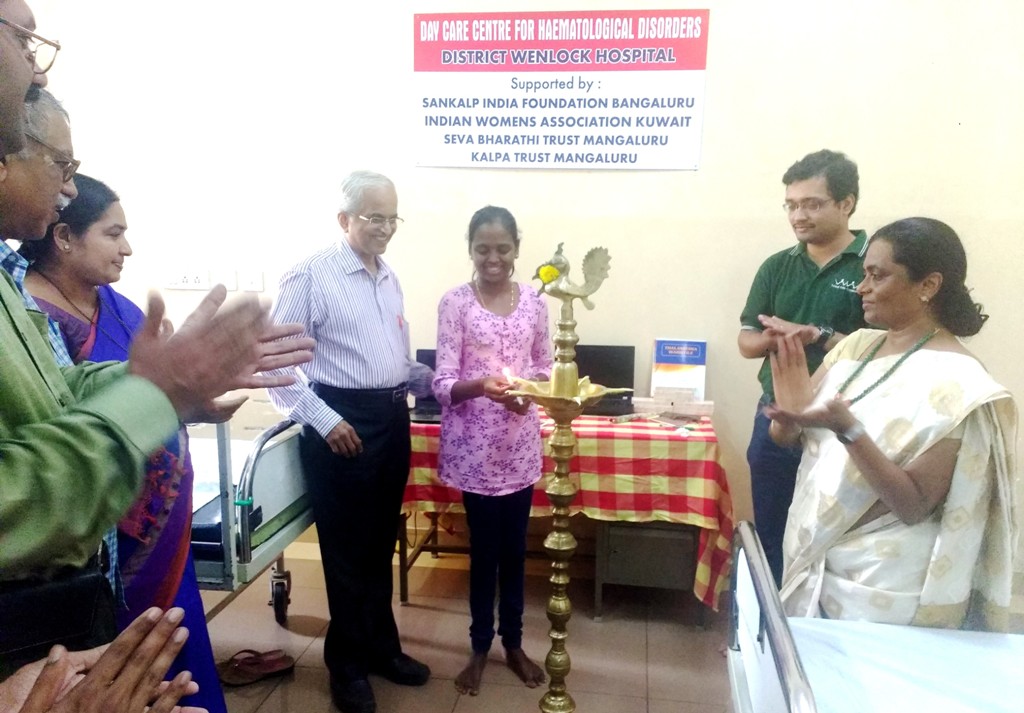 This Independence Day brought a new cheer and new hope to the coastal city of Mangalore. Sankalp India Foundation took a new step towards providing systematic care and management for many more children by setting up a thalassemia day care centre at District Wenlock Hospital. Adequate blood transfusion, medicines and supplements, routine investigation and consultation with national and international experts will all be provided to these children.
Although the district has 7 medical colleges (the most in Karnataka), there was no single centre of excellence for clinical management of thalassemia which is actually the biggest NCD affecting children. Now, there is one  something that will change the lives of nearly 200+ thalassemics in this region.
Aided by ThalCare, a world renowned thalassemia care technology platform, the centre will join into a network of thalassemia day care centres run by Sankalp India Foundation which already manages 3 other day cares in Karnataka supporting nearly 750 children. 25 children have already been enrolled and have started being managed under the Sankalp banner. The centre aims at having nearly 200 children enrolled in the next one year. The centre will operate on the second  floor of the Regional Advanced Paediatric Care Centre. It will move to the ground floor of the hospital's new medical block that will be ready by October.
Seva Bharti Trust, Kalpa Trust both Mangalore based NGOs are lending their support to the program by helping with counselling and resources necessary to run the centre. Other NGOs like Indian Womens Association, Kuwait also is part of the team committed to provide chelators and other supplements.
Dr Rajeshwari, District Surgeon speaking on the occasion said  "This is an important setup in Wenlock Hospital. Attending to NCDs is an important element of care. The hospital is happy and excited that in a PPP model we will be providing systematic care to children with thalassemia and related hemoglobinopathies. Wenlock Hospital is committed to changing the life of all these children for the better"
Dr U V Shenoy, District Early Intervention Officer and Nodal Officer for Hemoglobinopathies said "The day care centre should become a centre of excellence for clinical management of Thalassemia. We intend to reach out to every child suffering from thalassaemia and help them lead a life free from such blood disorders,"
Sh Lalith Parmar, President, Sankalp India Foundation: "This is an important step in our journey. We intend to reach out to each child suffering from thalassemia and give them systematic care with standards as good as or better than in other parts of the world. With this centre, in about 1 year we will covering nearly 1000 children. Mangalore is an important medical hub and District Wenlock Hospital is a well known hospital. This partnership will be crucial to improve the overall quality of life of thalassemics in this belt of the country".