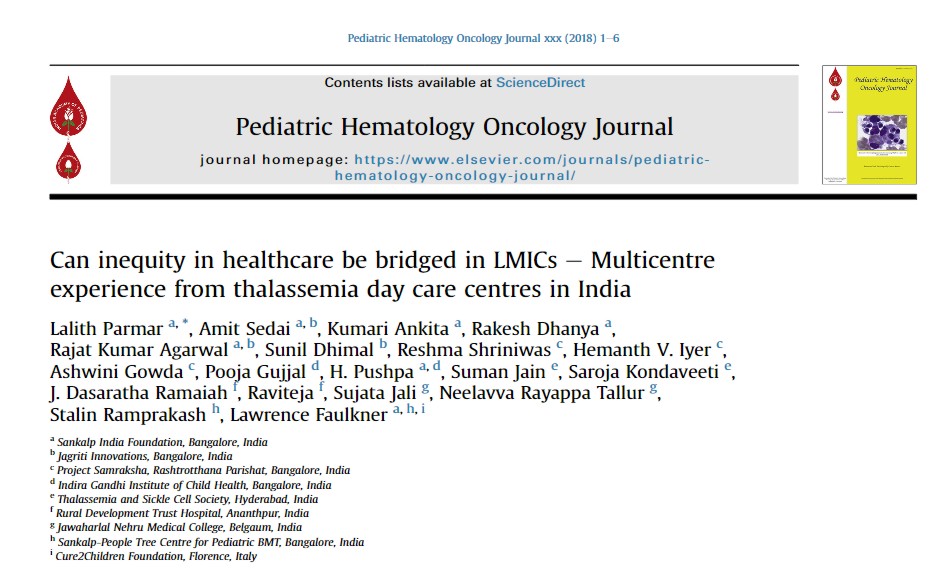 Delivering equitable healthcare is a global challenge. There are certain groups of patients which continue to perform poorly on clinical indicators compared to other patients. Gender, socio-economic status, distance from treatment centre and parental education are well established factors which influence the treatment outcomes.
Sankalp India Foundation, together with it's partner organisation strives to ensure that each child gets proper care irrespective of their background. We measured and compared clinical parameters on various determinants of social inequity to see how effectively the thalassemia management program has been able to deliver care equitably. The results were recently published in the special edition on Thalassemia of the Pediatric Hematology Oncology Journal of the Pediatric Hematology Oncology Chapter of Indian Academy of Pediatrics titled "Can inequity in healthcare be bridged in LMICs – Multicentre experience from thalassemia day care centres in India".
The following are the key highlights of the paper

Participating centres seemed to have achieved reasonable equity in delivery of transfusion therapy.
No sex based inequity is seen though fewer girls get enrolled for treatment compared to boys.
Centres offering transport support do not see the impact of distance from hospital on patient care.
Despite absence of inequity for the factors reviewed, chelation therapy remained suboptimal.
The paper concludes "The centres included in this survey have been able to achieve health equity based on social determinants including economic status, sex, travel distance to the centre of treatment, and education level of parents. This experience shows how health outcomes could be measured based upon factors contributing to inequity and that health equity can be achieved even in resource-limited setting for management of chronic diseases like thalassemia."
The fact that 5 different centres across different states which delivered care to 1507 patients were able to do so equitably is very encouraging. We congratulate the staff, management and donors of these centers for having made this possible. This is a model to be emulated in all centres in the country and abroad.
The paper is open access and the full paper is available free of charge to download and share.