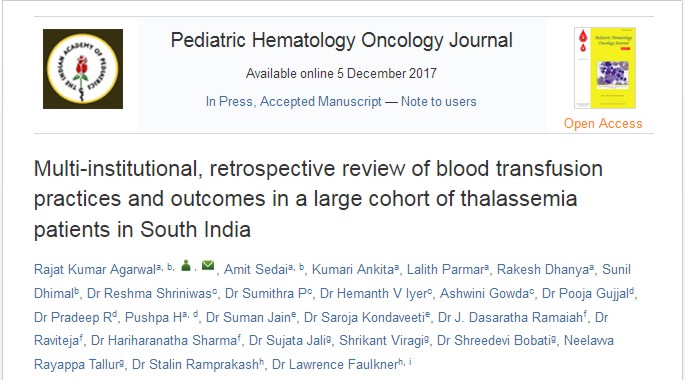 Our work "Multi-institutional, retrospective review of blood transfusion practices and outcomes in a large cohort of thalassemia patients in South India" has been accepted for publication in Pediatric Hematology Oncology Journal, the official journal of Journal of the Pediatric Hematology Oncology Chapter of the Indian Academy of Pediatrics.
Not many large multi-institutional studies have been published in India. As a consequence we continue to base our management practices on anecdotal findings, generalised guidelines or individual perception of the clinicians. To our knowledge, this is the largest study which has systematically analysed various issues around blood transfusion needs of thalassemia patients over a period of 1 year prospectively from 5 different centres in Karnataka and Telangana. The evidence and findings of this study are likely to provide a benchmark for assessment of blood transfusion practices for chronically transfused thalassemia patients.
The key findings of the study included:
Mean pre-transfusion Hb was 8.8 g/dl.
99% of blood was available on-site.
Saline washing of red cells seems to be effective in controlling transfusion reactions.
Rate of transfusion reactions was 0.7% without pre-medication.
Low rates of transfusion-transmitted infections were seen.
Voluntary blood donation may reduce transfusion transmitted infections.
Median duration of entire day care stay was 8 hours (inter quartile range 6–8).
"This is a well written paper, detailing the transfusion practices at five major thalassemia care centers in South India. The authors have extracted and analyzed data collected through a web-based transfusion management software tool that is used to facilitate the care of these patient. Therefore, this is a retrospective, non-interventional study of clinical practice. The information provided is comprehensive and presented in a lucid manner which allows the reader to negotiate the large amounts of data presented with clarity and comprehension. I believe that this paper provides a benchmark for how thalassemia patients could and should be cared for, not just in LMIC, but everywhere." – remarked one of the reviewers of the manuscript.
We would like to take this opportunity to congratulate teams from Project Samraksha, Rashtrotthana Parishat - Bangalore, Indira Gandhi Institute of Child Health - Bangalore, Thalassemia and Sickle Cell Society -  Hyderabad, Rural Development Trust Hospital -  Ananthpur and Jawaharlal Nehru Medical College - Belgaum for participating in the study.