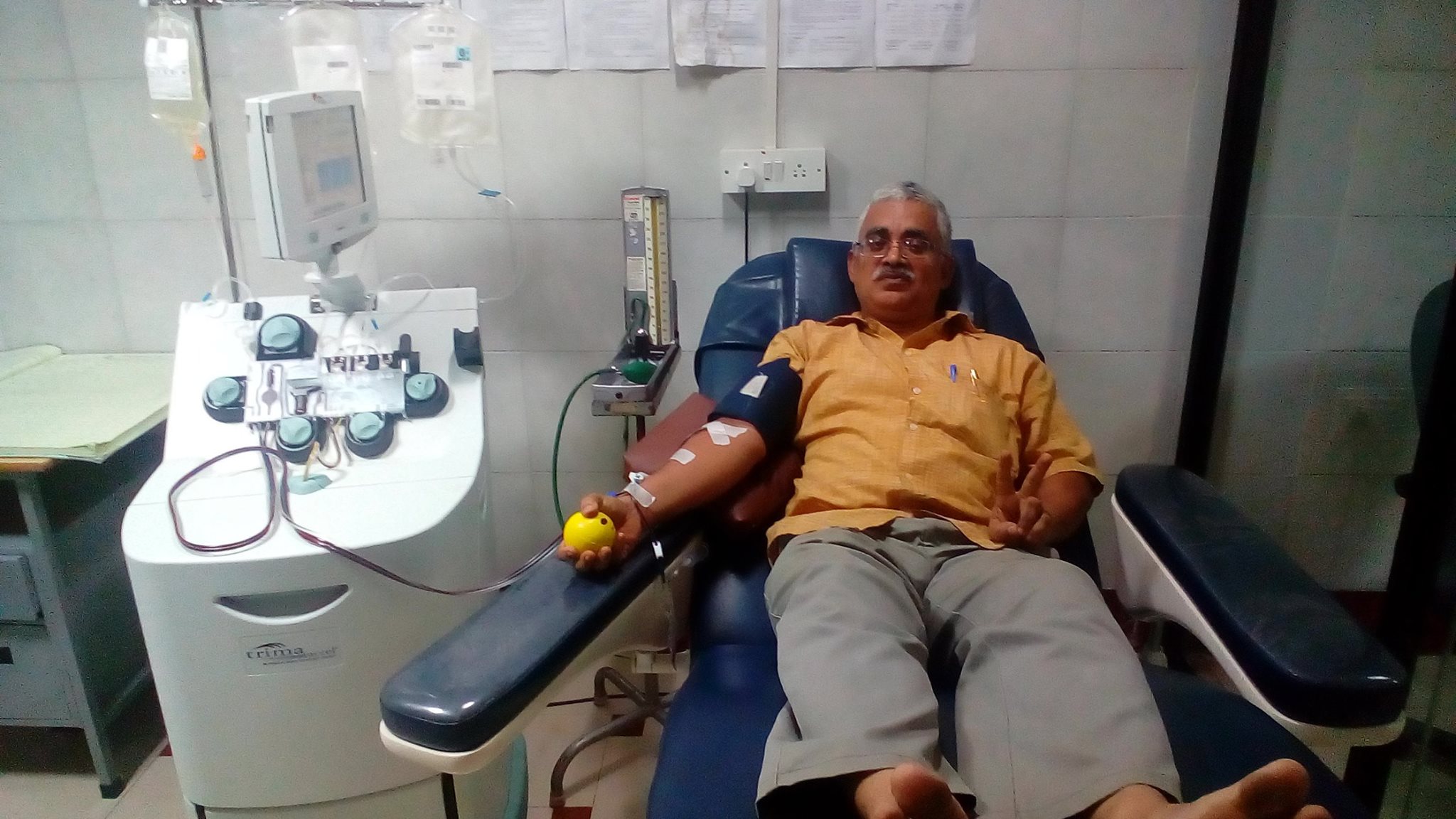 Mr Chandrakanth Acharya is a voluntary blood donor and a donor motivator who is close to completing 100 donations with 32 single donor platelets donations and 1 stem cell donation. An inspiration to all of us, ever willing to donate blood, he is ready to come whenever there is someone in need of blood. A must read for everyone in blood banking.
Greetings on the National Voluntary Blood Donor Day! Here are a few thoughts of the voluntary donor!
As a voluntary donor, what crosses the donor's mind are shared in the paragraphs below. If they are addressed in right earnest, I believe the goal of 100% voluntary blood donation with no forced or replacement donation can be achieved earlier. A person coming out to donate blood for the first time needs to be treated well and be informed of what to expect be it 1% or less of donors fainting/ feeling light headed/ giddy/ black out as also the venipuncture site hurting/ turning black to blue because of blood leakage etc, and very rare case of hyper ventilation. I have seen donors feeling relieved when told what to expect and take measures to avoid it too! This has to happen at the time of donor form filling, which is not happening currently in most blood banks. Front office personnel can double up as counsellors to neo donors. It is in the interest of blood banks to put the donor at ease and make his experience a memorable one as this leads to him or her coming back again for donations. If a person has arrived at the blood bank means someone must have cajoled him/her into that by sufficiently motivating. It is blood bank's duty to sustain it further.
I will intersperse here with a few of negative experiences here. In one of the blood banks, donor was deferred on seeing grey color of hair!! It could have been avoided in the first place, if there is a dedicated front office staff who can double up as counsellor too. And training in the best practices, NACO/WHO guidelines and etiquette make the whole affair simpler.
We are all humans. prone to errors. But minimising errors is one of the best practices. Blind pricks and its consequences leave a bad memory and may deter neo donors. Latest devices like vein illuminator help in this but nothing beats a good training and confidence.
And if for reasons, some donor may have to be temporarily deferred, announce it with dignity. I have seen female donors going away sadly as though the temporary deferral on account of low haemoglobin makes them permanently deferred. If possible, suggest ways of improving Hb which helps them in enjoying life to the full too. Temporary deferrals should be said so and when can it be lifted also to be told.
If the blood flow is slow or stops, (during donation) donor comfort and safety is priority and not the saving of the bag/kit. Do not jiggle the needle to increase flow!!
If for any reason(non availability of bed/machine, waiting for test results) there is going to be delay, please tell the donor so. Their time is precious and they would have come to help someone putting their important work on hold. It really irritates to wait, while blood bank personnel chit chat and gossip.
A cheerful disposition and professional attitude is something which can definitely be inculcated and is expected by each donor when he visits a blood bank for donation.
Happy blood donation day once again!!!