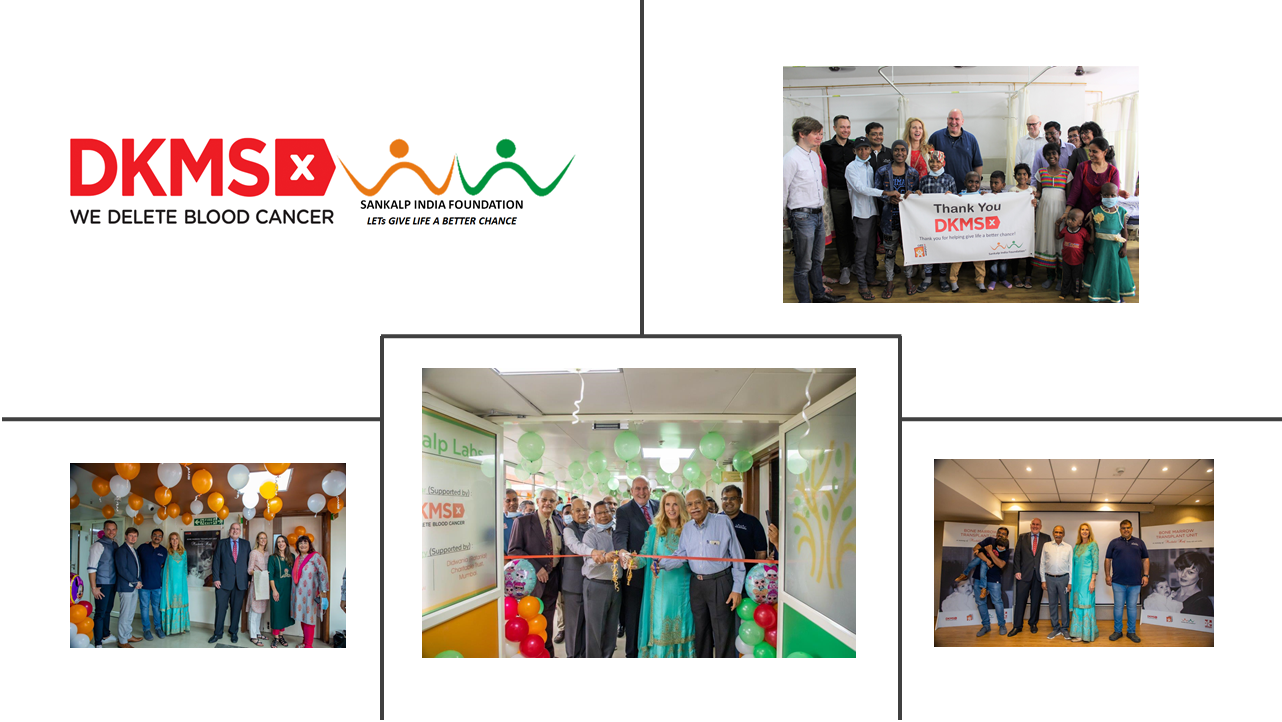 DKMS is an international nonprofit organization founded in Tübingen, Germany, in 1991. Today, the organization has donor centers in seven countries on five continents. Dedicated to the mission of providing as many second chances at life as possible for patients with blood cancer and blood disorders such as thalassemia, DKMS creates awareness around these conditions, recruits potential stem cell donors and supports the improvement of blood cancer therapies through its research.
Sankalp has been fortunate and blessed to be associated with them for several years now. DKMS not only fully supports the HLA typing program of Sankalp, but also offers financial support to families who undergo Bone Marrow Transplant at our centres. Their scientific interest in the field of transplants is exemplary and are often involved in research on several areas. We requested them to share their experience in working with and collaborating with Sankalp. Their article follows
As an international organization committed to the fight against blood cancer and blood disorders such as thalassemia and aplastic anemia, we at DKMS want to provide as many patients as possible with a second chance at life. Recently, we have expanded our mission and the scope our activities: In addition to registering unrelated blood stem cell donors, we go out of our way to increase the access to transplantation for patients in need. For us, ensuring access to potentially life-saving therapy now also increasingly means overcoming socioeconomic barriers to transplantation. Our efforts in this field are based on three support programs:
•    Finding the perfect match: The DKMS Free HLA Typing Program to identify family donors and to support donor searches
•    Giving hope for a healthy future: The DKMS Patient Funding Program to lessen the financial barriers of transplantation for patients
•    Empowering a better tomorrow: The DKMS Capacity Building Program to advance treatment and care through infrastructural support and training of healthcare professionals
For all of these efforts, we need partners who are fighting the same cause as us and partners who we can trust. Thus, we are very glad that Dr Lawrence Faulkner from Cure2Children has introduced us to Sankalp in 2017. Convinced by Sankalp's proven track record of high-quality transplantation at low-costs, we started our collaboration in 2018. Ever since then we have extended our commitment and support of the organisation. Currently, the vast majority of all our projects to provide access to transplantation are done in partnership with Sankalp and Cure2Children because we are deeply impressed by their dedication to the cause. Their work truly makes a difference in the lives of so many young patients and their families.

One of the most memorable moments and one of the biggest highlights of our partnership was last year's inauguration of the Bone Marrow Transplant Unit in memory of Mechtild Harf – our founder's wife who lost her battle against leukemia in 1991. At DKMS, we are very happy and proud to be a part of this project. Sankalp has designed this unit with incredible passion – to the last detail. On our visit, we were overwhelmed and amazed by the playful design, touched by all the staff – from the nurses, the housekeeping and the doctors – taking care of the little patients who feel truly comfortable there – and of course, impressed by the state-of-the-art facility itself.

Up to 120 children annually will be transplanted per year in this BMT Centre. This is not only wonderful for all the patients who will be cured, but this number also makes the program one of the largest and most relevant worldwide in this field. That is another reason to be proud. At the same time, it also results in new responsibilities, namely to actively contribute to further raising the treatment standards for thalassemia patients through scientific activities such as prospective clinical trials. We are ready to support Sankalp in this challenge and are looking forward to continuing our journey with the organisation – to give as many patients as possible the chance of a bright and healthy future